Open sesame
This article was originally published in January 2017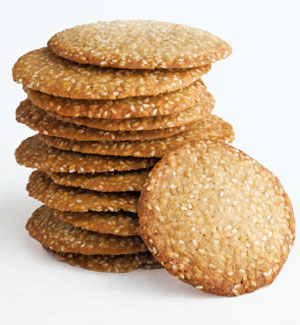 Sesame is an oilseed whose cultivation goes back to at least 3000 B.C.; it's a robust little plant that copes well with everything from drought to monsoons.
Its seeds are featured in cuisines from Angola to India to the Caribbean and used in everything from dim sum to rich desserts like halvah. You also can find it processed into paste (tahini) and several types of cooking oil. Try our recipe for Sesame Seed Cookies.
Sesame products at PCC
Bulk sesame seeds
Pick up white sesame seeds in bulk for adding to cookies, granola, stir-fries or salads. You'll also find brown sesame seeds and black sesame seeds for additional flavor and texture.
Sesame oil
Choose refined for stir-frying (or even deep-frying), unrefined for salads or stir-frying spiced dishes, and toasted as a flavoring oil for marinades or noodle soups.
Tahini
Thick, creamy tahini might need stirring before use, to blend the oil thoroughly into the sesame paste. Once blended, it can be thinned with water and lemon juice for a dipping sauce for grilled meats, a salad dressing, or spread onto vegetables after roasting.