Foods for the Lunar New Year
This article was originally published in January 2017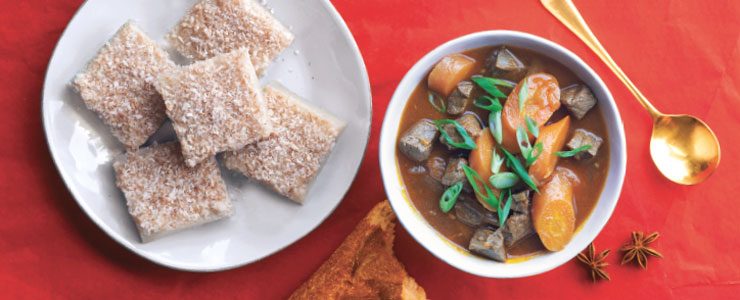 Countries in Southeast Asia have deliciously different food traditions to celebrate the Lunar New Year. Make sure to add plenty of citrus and candied fruits to this assortment, for a lucky touch of sweetness and bright color. Ring in the Year of the Rooster with recipes from Korea, Vietnam and China.
This dish is total comfort food, and the flavor profile is a fragrant update, with lemongrass, ginger, cinnamon, star anise and fish sauce. At restaurants this stew might be served alongside steamed rice or rice noodles, but a French baguette is a fine choice that's recognizable for anyone who's tried a banh mi.
There are many variations on this cake served in different parts of China, Malaysia and the Philippines; this recipe is adapted from the Cantonese style, but it is baked rather than steamed. It's inherently gluten free, as it's based on sweet rice flour. Just one piece is meant to bring luck!
Dumplings are deeply traditional for this holiday; the shape of these look like Chinese money of antiquity, symbolizing wealth and prosperity.
Savory sesame oil, fresh ginger and plenty of grated vegetables make this simple dish easy to prepare and absolutely delicious as a side dish. An additional sesame dipping sauce is wonderfully satisfying, too.
Candied fruit in many forms — as well as citrus in many forms — are a definite part of Lunar New Year parties. Make a batch of candied orange peel and you'll have delicate, tangy-sweet nibbles for a week. They can be a bright garnish for Bo Kho or served alongside black tea.