Top 10 holiday gifts
This article was originally published in November 2016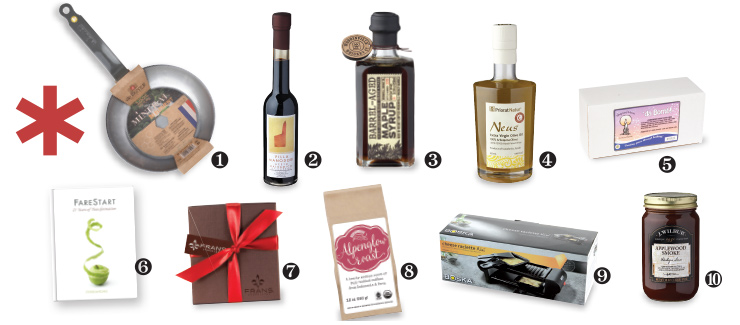 Pick up a gift for the food lover in your life. From local barbecue sauce to seasonal coffee, we have just the thing.
1) De Buyer Mineral B Element Cookware
These carbon steel pans feature a protective organic beeswax finish. Similar to cast-iron, they get better with age. Choose from a selection of eco-friendly pan styles, including fry, omelet, steak and crepe.
2) Villa Manodori Balsamic Vinegar
Handcrafted in Modena, Italy, this small-batch vinegar is aged in a series of oak, chestnut and juniper barrels. The result is a true balsamico with a woody aroma, raisin-sweet tart taste and a maple syrup-like texture.
3) Woodinville Whiskey Co. Barrel-Aged Maple Syrup
A breakfast game-changer, this amber maple syrup is aged in whiskey barrels where it absorbs delicious flavors, like vanilla, caramel and yes! — bourbon.
4) Priorat Natur Neus Extra Virgin Olive Oil
Spanish Arbequina olives are picked by hand and then cold-pressed the very same day to create a fresh, fruity, buttery oil that is ideal for salads and dipping.
5) Shepard Moon Concoctions 'Da Bomb!
This DIY kit from Seattle local Shepard Moon has everything you need to create four fizzy bath bombs, including a recipe, essential oils and even gift wrapping.
6) FareStart: 25 Years of Transformation
Filled with delicious recipes and heartfelt stories, this book is a celebration of FareStart's journey as a nonprofit in Seattle. Proceeds from the sale of the book will go back to FareStart.
7) Fran's Gray & Smoked Salt Caramels
These world-famous caramels need no introduction. Locally made, they're sweet, salty and creamy — the perfect trifecta.
8) PCC Alpenglow Roast
Exclusive for the holidays, this hearty medium roast offers a creamy texture with flavors of vanilla wafer, milk chocolate, toffee and clove. As with all PCC coffee, the beans are organic, shade-grown and fairly traded.
9) Boska Mini Raclette
Discover fun and delicious raclette with this simple set. Raclette is a traditional Swiss dish where cheese is heated 'til melted, scraped onto your plate and served with veggies and charcuterie. It's the new fondue!
10) J. Wilber BBQ Sauce
Locally made in Kenmore, Wash., this sweet, smoky barbecue sauce will transport you to Memphis with its blend of authentic spices. Choose from Hickory Smoke, Applewood Smoke and Spicy Hickory.