Bird is the word
This article was originally published in November 2016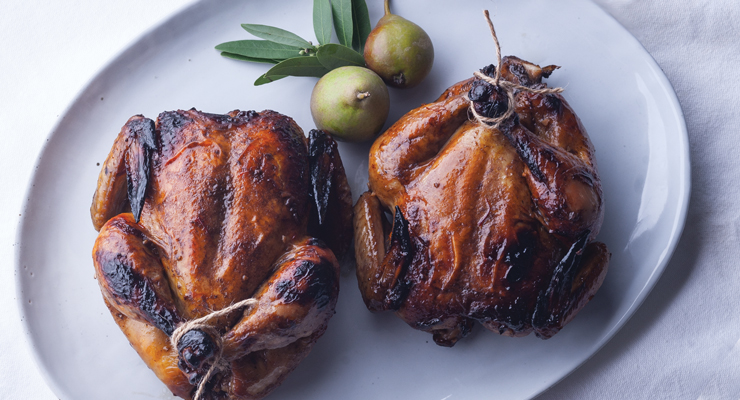 Sure, roast turkey is the great American tradition. But introducing new options keeps holidays from feeling stale — and in some cases, choosing an entrée with a smaller size can be a real help if you're not feeding a crowd. If you'd like a bird as the centerpiece of the meal but aren't attached to turkey, check out these options for delicious updates.
The last time these young chickens were popular was the '80s, and it's past time they regain their place at the table. Grown by Pitman Family Farms, they're about two pounds each — small (so they cook quickly), tender and richly flavored. Our recipe uses tangy pomegranate molasses and savory saffron for a very modern marinade.
Duck is a favorite of chefs for good reason — the meat is juicy and well-flavored, able to stand up to all kinds of creative recipes. Our ducks have plenty of space on a collection of small family farms and are fed an antibiotic-free diet. A quick pan sauce with honey, orange juice and Fuyu persimmons can be stirred together while the meat rests; the flavors are lovely with duck.
A classically English bird for roasting whole (particularly with chestnut stuffing), goose is an excellent choice for lovers of dark meat. There's a noticeable amount of fat right next to the skin of our South Dakota-raised geese, but the meat itself is remarkably lean. Roasted properly, with a careful eye on the time and temperature, you'll have wonderfully crispy skin with flavorful, tender meat.
Don't want to cook?
Diestel smoked turkey is a delectable choice for the holidays, and it does fantastic things for late-night sandwiches, too. Diestel's is naturally hickory smoked, with a clean, mildly smoky flavor — all you need to do is heat it up! You can order online for pickup in store.