Great drinks for the holiday table
This article was originally published in November 2016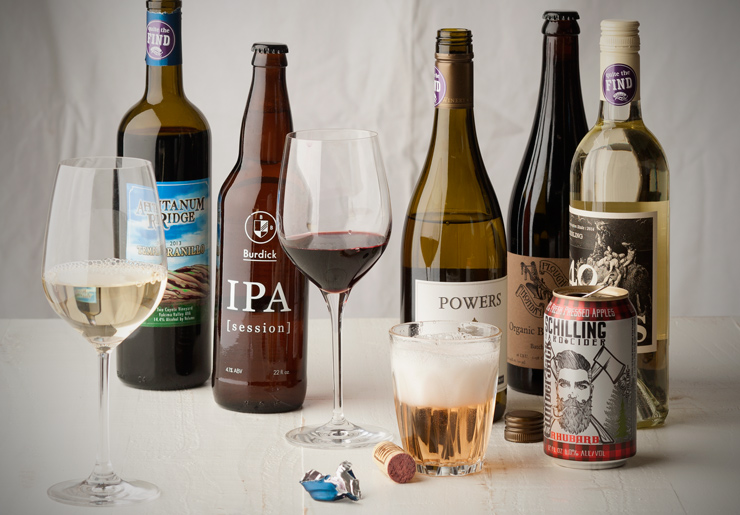 One beer, one wine and one cider have each been chosen to work beautifully with five of the most popular entrées on the holiday table. Each wine is made in Washington, and blended just for PCC through our partnership with a great winery. Two — for roasted turkey and salmon — have extra benefits of giving back to a local nonprofit. Don't forget an extra glass or two for the cooks and cleanup crew!
SMOKED TURKEY
If you haven't tried cider alongside turkey, now's the year to make it happen. Rich, complex apple flavors are amazing with the light hickory smoke of Diestel smoked turkey.
Wine – Ahtanum Ridge Tempranillo
Beer – Reuben's Roast Rye
Cider – Snowdrift Semi-dry
ROASTED TURKEY
In the land of IPAs with increasingly strong citrus flavors, a malty brown ale is a treat, and its mellow, medium-rich body is right in line with seasonal ingredients.
Wine – Power's Chardonnay "Farmland Trust"
Beer – Plough Monday Organic Brown Ale
Cider – Schilling "Lumberjack"
HAM
Ham needs a counterpoint to its smoky, sweet richness. Go bright with a dry riesling, a food-friendly, tart fruit cider from the Olympic Peninsula or a crisp, hoppy pilsner.
Wine – 40 Days Riesling
Beer – Bayern Pilsner
Cider – Finnriver Cranberry Rosehip
BEEF RIB ROAST
Beef has been getting paired with red wine and crisp ale for centuries, and our PCC exclusive Roosevelt Red is crafted from deliciously balanced Washington fruit at a great price.
Wine – Way Out West "Roosevelt Red"
Beer – Schooner Exact "Mountain Boomer"
Cider – Dragon's Head Manchurian
SALMON
Our beloved Pacific Northwest wild salmon deserve the best — and our Long Live the Kings wines are designed to pair well with salmon and to give back to an important watershed protection program.
Wine – Chinook Yakima Valley Red "Long Live the Kings"
Beer – Burdick Session IPA
Cider – Sixknot "High Desert" Dry