A perfect pot or pitcher
This article was originally published in September 2016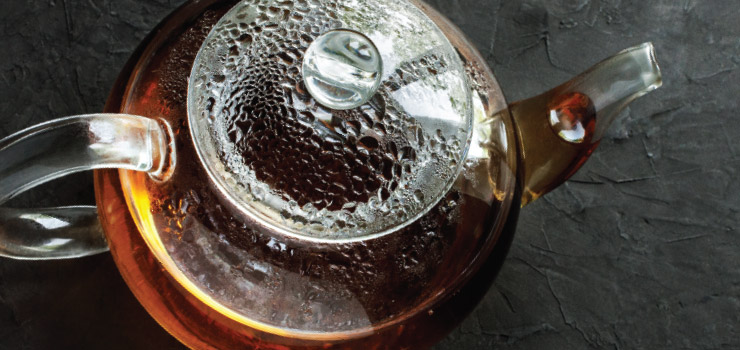 Tea bags have one thing in their favor: convenience. Very few of them contain whole-leaf teas, and it's much easier to customize brewing to your palate's preference with loose tea.
HOT TEA
A basic rule of thumb is to use 1 1/2 teaspoons loose tea per 6 ounces of water. However, there is tremendous variation in the size of dry tea leaves, so with larger leaves it's not unusual to go all the way up to 1 tablespoon per 6 ounces of water. It's possible to be very precise when it comes to water temperature, using a thermometer and scaling the temperature for different types, but a reasonable medium is when you spot a few bubbles but it isn't boiling (about 190° F). A clear glass pot lets you observe the color as it steeps, but 3 minutes is a good place to start.
ICED TEA
It's best to make a double-strength concentrate — try 1/3 cup of loose tea to a quart of 190° F water. Go with a shorter brewing time (3 minutes even if you typically brew for longer) because tea's bitter, tannic notes will be more apparent once you put the tea on ice. You might also want to sweeten it a bit. To use granulated sugar, dissolve it when the water is still hot; to use honey or agave syrup, it's fine to stir it in once it's been iced. Pour your tea concentrate over a quart of ice cubes and stir until the ice has mostly melted.
BULK TEAS AT PCC
Frontier Darjeeling
Certified organic and Fair Trade Certified, this Darjeeling is a Chinese species of tea grown in India. Picked early in the season and sorted to earn its "tippy golden flowery orange pekoe" grade, the flavor is lightly astringent and floral — a lovely black tea for green tea drinkers.
The Jasmine Pearl Tea Co. House Blend Oolong
Slightly floral, slightly toasted, this blend of low elevation Taiwanese oolong teas is lovely to watch unfurl as it steeps. It's common to steep oolong tea for more than one cup or pot from the same leaves.
The Jasmine Pearl Tea Co. Assam
Certified organic and Rainforest Alliance certified, this big, bold black tea is estate grown in India and a fun single-origin tea for lovers of English or Irish Breakfast blends. Its malty, nonastringent richness is lovely plain or with milk.
Choice Organic Teas Lapsang Souchong
Certified organic and Fair Trade Certified, this is made from coarse assam tea leaves smoked over pine fires for a characteristic strong and smoky forest-like tea. While it won't get particularly bitter if it's over-steeped, people either love or hate its notable smoky flavors.
Accessorize: Near the bulk teas, you'll find an assortment of steeping accessories, including muslin tea bags you can fill with the loose tea of your choice, and rinse and refill.