20-second health tip
This article was originally published in September 2016
The Centers for Disease Control calls hand washing a "do-it-yourself vaccine," particularly when it comes to controlling the spread of respiratory and digestive illnesses. Getting it right is easy, but developing the habit is just like changing any other health habit: You need to commit.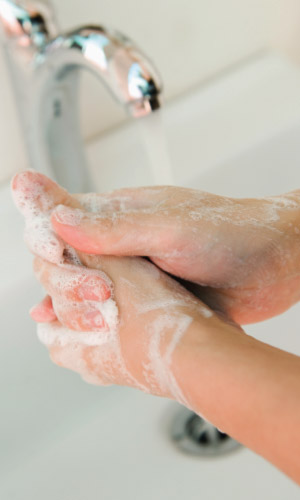 1. Get wet
The temperature doesn't appear to affect microbes, but use running water rather than a basin. If you have sensitive skin, hot water might increase irritation from soap, so cool or warm water is fine. Turn the tap off after your hands are wet.
2. Lather
Get the soap between your fingers, under your nails and across the backs of your hands. Unless you work in health care, an antibacterial soap isn't necessary. If using one that smells great encourages your habit, choose your favorite scent!
3. Scrub
Global organizations recommend 20 seconds — more if you've been tending an ill person. Less time spent on this step seems to result in reduced germ removal. Sing a few bars of the tune stuck in your head or count slowly to 20.
4. Rinse
Again, use running water rather than a basin, so you don't recontaminate your hands. The CDC has not found any studies to support turning the tap off with a paper towel — it just leads to using more towels.
5. Dry
Germs can be transferred more easily to and from wet hands. Whether you use a clean towel or an air dryer is up to you. Launder your home's cloth towels frequently, particularly if a virus is going around town.
Great products from PCC
PCC Soap
Our new PCC private label soap is made by Moon Valley Organics, a Washington company and certified organic farm. You'll find delicious natural scents like Pink Grapefruit, Northwest Forest, Lavender, and an unscented bar.
CleanWell Hand Sanitizer
When a sink isn't available, it's great to have an alternative. This thyme-based formula is naturally antibacterial and alcohol-free. It's a gentle, kid-safe liquid spray (there's no gel to get everywhere) and it doesn't sting.
Nature's Way Immunables Kids Immunity
A strong immune system comes into play when hand washing fails us. This vanilla-flavored probiotic blend is appropriate for children over the age of two, and can be stirred into water, milk or juice.
Effer-C Elderberry
Stir up a fizzy drink with a sweet, dark berry flavor and 1,000 mg of vitamin C, plus minerals like magnesium, potassium and chromium. These packets include 500 mg of elderberry concentrate, as well.