A cast of summer salads
This article was originally published in July 2016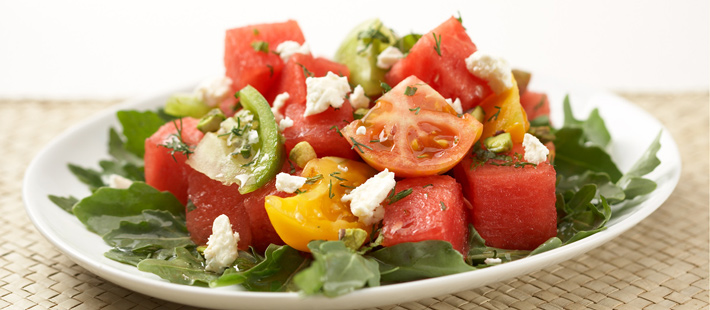 Before you picnic in the park, take a hike or host a barbecue, swing by the PCC Deli for a slew of summertime salads that showcase the best of the season. We have classics, such as our California Potato Salad and Indonesian Rice, in rotation along with newer recipes. Here are five others to check out.
5 fresh favorites
Tomato And Watermelon Salad With Feta
Tangy feta cheese is the perfect counterpoint to sweet watermelon in this super refreshing salad. Arugula adds a kick and tomatoes and cucumbers round it all out.
Methow Valley Salad
Locally harvested emmer farro from Bluebird Grain Farms anchors this dish that also features cooling cucumbers, tomatoes and crisp greens in a dressing of lemon, garlic and fresh herbs.
Turkish Garbanzo Salad
A delightful blend of garbanzo beans and sweet dried apricots is marinated in an herbal Mediterranean dressing and accented with kalamata olives. This salad is best eaten cold on hot days, or stirred into your favorite greens.
Caprese Salad
It's hard to improve on the simple perfection of tomatoes, fresh mozzarella and basil. A drizzle of lemon oil and salt and pepper allow the three main ingredients to shine.
Kelp Noodle Salad
A fantastic alternative to pasta salad, this dish features noodles made from seaweed tossed in a tamari, rice vinegar, and sesame oil dressing. Cucumbers, carrots and bok choy, along with black sesame seeds and green onions, add crunch and flavor.