In with the new (potatoes, that is)
This article was originally published in May 2016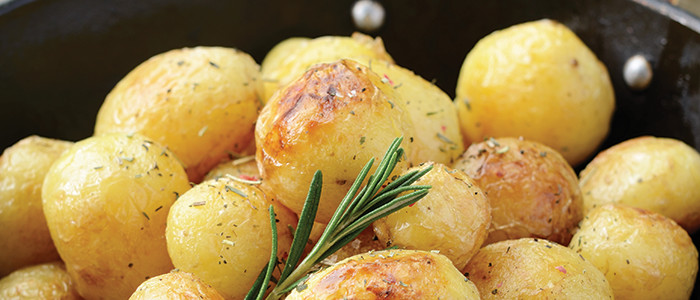 From russets to Yukon Golds, most of the potatoes we eat have been grown to maturity and then dried so they're suited for storing. During the curing process, their skins toughen and moisture is reduced so they'll last longer.
New potatoes, however, are picked before their sugars have converted to starch. They're not dried, so they contain a ton of moisture and sport much thinner, almost translucent skins. Every small potato is not a new potato and every new potato is not small — they can be any size, ranging from fingerlings to bakers.
When cooked, a new potato's delicate outer layer crisps up, leading way to a creamy interior. Flavorful and tender, new potatoes can be steamed, boiled, fried or roasted. Ultimately they need just a little butter and a scattering of herbs to make them taste fantastic. Of course they're excellent in potato salad too.
New potatoes' season is short — generally May to July, so get them while you can. Store new potatoes at room temperature and use them within a few days — they won't last as long as regular potatoes.
5 recipes to try
Oven-roasted Potatoes with Lemon
Fresh oregano, garlic, shallots and lemon mingle with caramelized potatoes for a super simple, savory side.
Get recipe »
Poached Spring Vegetables
Poaching vegetables in broth infuses delicious, delicate flavor. This medley of new potatoes, baby turnips, carrots, fennel and asparagus is tender and succulent.
Get recipe »
Creamy Roasted Potato Salad with Green Beans, Walnuts and Smoked Salmon
The assortment of textures and colors in this vibrant seasonal salad makes it a delicious addition to a spring picnic or gathering.
Get recipe »
Blue Cheese Smashed Potatoes
New potatoes' tender skin makes them ideal for smashing (and there's no need to peel them!). This rustic dish comes together quickly, and blue cheese adds a satisfying layer of smokiness.
Get recipe »
Potato Soup with Sage Oil
The use of fresh sage in this hearty soup lends an herbaceous note that marries well with the earthiness of new potatoes.
Get recipe »