Tahini – one ingredient, five ways
This article was originally published in August 2015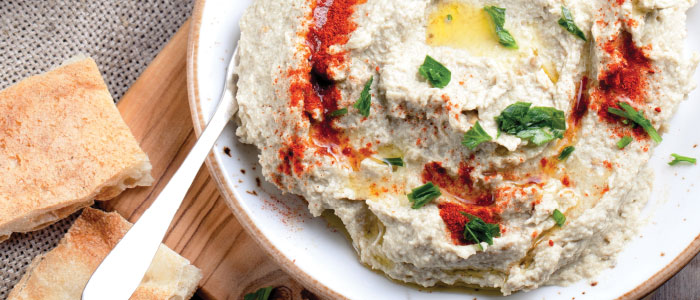 It's impossible to imagine Middle Eastern cuisine without this staple, and its rich, bittersweet flavor has caught on tremendously in the U.S. Tahini is made by soaking sesame seeds, then crushing them to separate the bran from the kernels. These crushed seeds are soaked in salt water so the bran sinks to the bottom, then the cleaned seeds are milled into a thick, creamy paste that's rich with flavorful oil.
These five recipes show off very different uses for this versatile ingredient. From a burger condiment to modern coleslaw or light, chewy cookies, tahini is at home almost everywhere.
Hummus
Hummus is frequently the first recipe American cooks make that needs tahini. Its flavor is a key component, adding depth and richness to this simple spread. Get the recipe.
Lemon Tahini Dressing
Salad dressing is another common spot for tahini, and it appears here in one of our most popular salad recipes. It's a mix of kale and quinoa, topped with crunchy seeds. Get the recipe.
Lemon Tahini Sauce
Tahini makes a quick, versatile sauce, perfect for salads of tender greens or drizzled on grilled vegetables. It's also a tasty burger condiment, especially combined with tangy pickles. Get the recipe.
Creamy Tahini Slaw
Tahini Slaw is a delicious update for coleslaw, and this version adds a range of crunchy fruits and vegetables along with cabbage. Serve with barbecued brisket, roast or fried chicken or smoked pork. Get the recipe.
Chewy Tahini Cookies
Tahini cookies are nutty tasting and minimally sweet; this version is chewy from a touch of honey and sprinkled with extra seeds for a tiny bit of crunch. Get the recipe.
Tahinis to try
Which tahini to try in these recipes? Each brand has a slightly different flavor and texture. Artisana Tahini is raw, not toasted, for a light, clean flavor. Or try Joyva, made in the U.S. for over a century; its richness is the gold standard for American tahinis.