Pit stop
This article was originally published in August 2015
Summer ultimately means sweating, and while perspiration is our body's natural way of cooling off, a quality deodorant is key to staying and smelling fresh.
For years now, "natural" deodorants have avoided using aluminum chlorohydrate and aluminum zirconium, ingredients that may be linked to breast cancer and Alzheimer's disease. But many products still contain propylene glycol and/or polyethylene glycol (PEGs) — questionable ingredients that may have harmful effects. We're in the process of phasing out any deodorants that contain either of these ingredients at PCC, as well as carefully evaluating the category as a whole. Here are three clean deodorants currently in our stores that are safe, effective and worthy of trying out.
---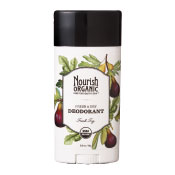 Nourish Organic Deodorant
Featuring a blend of cornstarch and plant enzymes that neutralizes odor and dries underarm moisture, this stick deodorant is incredibly gentle on sensitive skin. Certified organic, it also contains shea and cocoa butters, beeswax and coconut oil. Choose from fragrances like Fresh Fig, Wild Berries, and Almond Vanilla.
---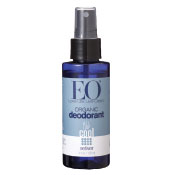 EO Organic Deodorant
Two simple ingredients are at the heart of this certified organic deodorant: organic ethanol, a natural antiseptic that kills the bacteria that causes body odor, and organic essential oils. Packaged in a spray bottle, it's available in scents such as Lavender, Citrus, and Vetiver.
---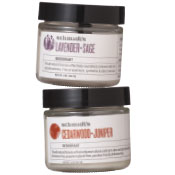 Schmidt's Deodorant
Crafted in Portland, Ore., this cream deodorant neutralizes odor with a hop extract that inhibits the growth of bacteria. A combination of baking and arrowroot powders reduces wetness. Choose from scents like Cedarwood + Juniper, Lavender + Sage, and Ylang Ylang + Calendula.
Sweat it out
You won't find antiperspirants at PCC. That's because sweating is normal and good for you — it's your body's natural cooling system. And while sweat may get a bad rap, it's mostly due to the body odor that comes along with it, as sweat itself doesn't have much of a smell.
BO is a result of bacteria converting our sweat into acids. Rather than tackling these bacteria, antiperspirants use aluminum to block the pores of our skin, preventing our skin from being able to sweat and exposing skin (the largest organ of your body) to unsafe ingredients.
The deodorants available in our stores target the bacteria instead, helping eliminate the stink while allowing your body to do what it's designed to do — sweat.