Wrap it up with collards
This article was originally published in July 2015

Fresh, portable and healthy, wraps are a fantastic summertime option and a great way to incorporate all kinds of veggies into your diet. While tortillas provide a good vessel, consider going greener by making sandwich wraps with collard greens.
Chock-full of good nutrition, collards are a cruciferous vegetable — potent and proven cancer-fighting food. One cup of cooked collards provides as much calcium as a glass of milk, making collards one of the highest plant food sources of calcium. The calcium in collards also comes with tons of vitamin K, an important nutrient for maintaining calcium levels and bone health. A cup of this green veggie also contains at least 10 percent of your daily value for over 12 essential nutrients, including protein and iron. Despite being low in fat, collards actually provide some omega-3 fatty acids as well.
You'll find locally grown, organic collard greens from Ralph's Greenhouse in Mt. Vernon, Wash., and Spring Hill Farm in Albany, Ore., by mid-July in PCC stores. Short on time? You'll find an assortment of collard wraps in the PCC Deli, ready to grab for lunch or a light dinner.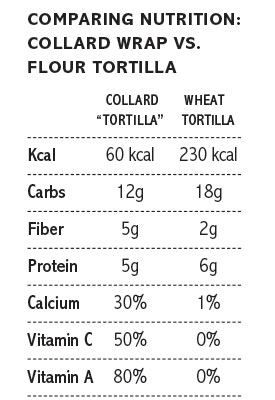 Make a collard wrap in 5 easy steps
Remove stem from the leaf to make two leafy halves.

Place each leaf in boiling water for about 45 seconds, then in a 30-second ice bath. Pat dry.

Lay each leaf on a cutting board and fill with your favorite ingredients. Think chicken salad, hummus, even risotto. Vitamins A and K are fat soluble, so be sure to add something with some good fats/oils.

Roll up the leaf and its filling like a burrito; the freshly cooked leaves will be pliable, easy to roll, and will stick together nicely once wrapped up.

Eat as a "burrito" or slice into "sushi" pieces.