In the community
This article was originally published in June 2015
And the award goes to…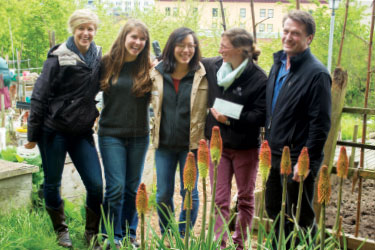 We're excited to announce that our second Community Grant of 2015 has been awarded to InterIm Community Development Association's Danny Woo Community Garden. The garden operates a space in Seattle's Chinatown/International District where elders can practice farming and gardening from their cultural heritage, as well as teach youth about these cultural histories and introduce them to the joys and wonders of gardening.
The Danny Woo Children's Garden, piloted in 2009, is located within the community garden. Children learn the process a plant takes to grow from a seed to food on their plate. Our grant will be used specifically for the cooking class portion of the Children's Garden program. Under supervision, children are responsible for tasks such as chopping produce with plastic knives and using measuring cups to pour ingredients for sauces. The Children's Garden Coordinator then combines and cooks these ingredients on a hot plate while discussions are facilitated about the natural and cultural origins of food. The grant will allow for more of these cooking classes as well as help to provide more local and organic produce.
Big Day of Play
Sunday, June 28, Noon to 4 p.m.
PCC is the title sponsor of this free, family-friendly event held by Seattle Parks and Recreation at Mount Baker Rowing and Sailing Center. Stop by the PCC TasteMobile, where kids 12 and under can participate in a PCC Kid Picks taste test. Next, all ages can spin the Color Wheel to test their food knowledge and win prizes. Also check out activities like bicycling, basketball and Lake Washington fun with boats and paddling to discover what Seattle Parks and Recreation has to offer. Learn more about Big Day of Play.