Asparagus – one ingredient, five ways
This article was originally published in April 2015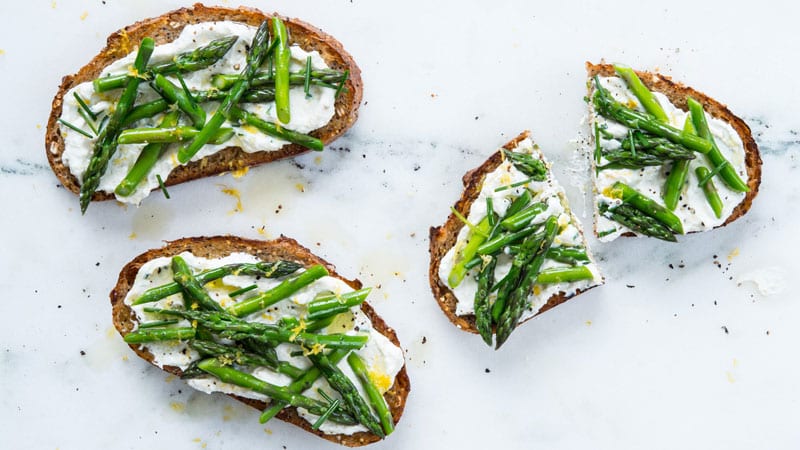 The darling of springtime vegetables, asparagus lends itself to a wide range of dishes, from creamy soups to crispy tempura. Whether you use thick or thin spears is a matter of preference. Thick spears work best with high-heat cooking methods such as grilling, broiling and pan-searing, allowing the exterior to caramelize while still retaining a bit of bite on the inside. Thin spears are best used raw, steamed or stir-fried.
Tacos
The bright, grassy flavor of asparagus is well suited for spring tacos, especially when the veggie is grilled or roasted. Plenty of lime juice, cilantro and rich, creamy avocados play deliciously well together in our recipe for Asparagus and Black Bean Tacos with Avocado Cream.
Toasts
Creamy ricotta toasts are a perfect platform for sautéed asparagus. A sprinkling of lemon zest, sea salt and black pepper makes these tasty little bites a delightful appetizer or light lunch. Learn how to make your own ricotta and then get our recipe for Asparagus Ricotta Toasts.
Raw
Shaving raw asparagus transforms the veggie into noodle-like strips that are light and crisp. Combine with radishes, lemon and goat cheese for a bright, fresh spring salad that's big on asparagus flavor in our recipe for Shaved Asparagus Salad with Radishes.
Frittata
From scrambles to benedicts, asparagus and eggs make downright delicious brunch fellows. Try our Asparagus and Bok Choy Frittata, which offers a fresh twist on flavors with sesame oil, ginger and green onions.
Grain salad
The meatiness of asparagus holds up well in grain and pasta salads, offering a dish that's hearty enough to stand as an entrée. In our Asparagus Farro Salad, peas and asparagus join farro, almonds and feta cheese in a lemony vinaigrette.