Healthy foods on the go from the PCC Deli
This article was originally published in January 2015
Not everyone defines healthy food in the same way: some worry about salt, others zero in on fat or sugar. Happily, the PCC Deli offers something for everyone.
The PCC Deli team develops original recipes throughout the year, using fresh, seasonal ingredients. While you'll find the majority of dishes are available in all locations, sometimes you'll find recipes that are unique specialties only available at a single store — they're commonly spotted on each store's social media pages through Facebook and Instagram. There's also a mix of perennially popular salads and soups that you'll find year-round, like Emerald City Salad and Tiger Mountain Chili.
Because our menu is always growing and changing, so is our PCC Deli nutrition database. We currently have nutritional information available for more than 600 dishes, encompassing everything from salad dressings to pizza. You can search the database here.
We work hard to source ingredients of the same high quality you'd buy when cooking at home. We're proud to use organic produce that's sourced locally as the growing season permits, alongside wild salmon, organic tofu, locally grown emmer farro and free-range chicken.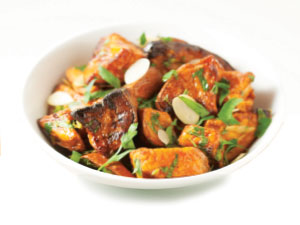 Moroccan Yam Salad
Low sodium
Richly sweet roasted yam wedges are given a savory flavor boost through the smart use of cumin, paprika, fresh herbs, sliced almonds and lemon juice. Deep red yams are nutrient dense (they're packed with beta-carotene as well as vitamins A and C) and satisfyingly hearty, so this vegan salad can make a great light meal on its own.
---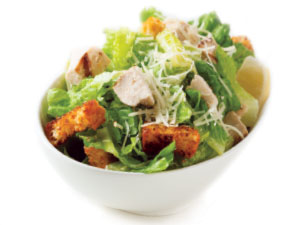 Caesar Salad with Chicken
High protein
This prepackaged salad features grilled free-range chicken breast and plenty of organic romaine lettuce, with a sprinkle of Parmesan and croutons made with organic flour. It's a great lunch choice, packing 29 grams of protein into a 230-calorie serving. There are also good
amounts of calcium, iron and vitamins A and C, making it a well-rounded choice on the nutrition front.
---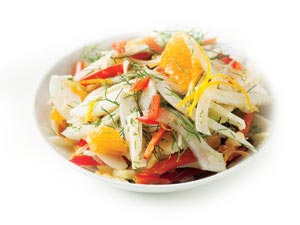 Orange Fennel Salad
Low fat
Organic fennel and oranges are blended with red bell peppers and a bright citrus and herb dressing for a fresh and tasty side dish that makes a cheerful addition to the table in the depths of winter. This high-fiber, cholesterol-free salad provides a big boost in vitamins A and C for a low 80 calories per quarter-pound serving.