Broccoli – one ingredient, five ways
This article was originally published in January 2015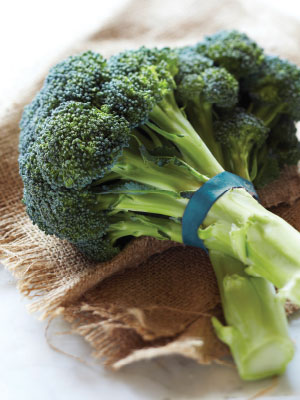 Sure it might seem boring, but there's nothing dull about broccoli. It's loaded with vitamin C, folate and dietary fiber, and broccoli even provides a healthy dose of calcium. While steamed broccoli is bland, there are many other ways to coax tremendous flavor from this hearty crucifer. Here are a few of our favorites.
Pasta
When roasted, broccoli is transformed into a sweet, nutty, robust treat. While delicious on its own, it's a tasty match for pasta, adding depth of flavor plus nutrition. In our recipe for Roasted Broccoli and Garbanzo Beans with Orzo, a lemon-Dijon vinaigrette adds an additional infusion of flavor, while sliced almonds and dried currants round out the dish that is great served hot or cold.
Stir-fry
It's hard to talk stir-fry without bringing up broccoli — the veggie holds up well to high heat and sauces or marinades. Our recipe for Beef and Broccoli Stir-fry is a wonderful weeknight meal that is quick and easy to make, plus low on calories.
Soup
Broccoli and cheese go together about as well as peanut butter and jelly, especially when it comes to soup. While Broccoli Cheddar is a classic, our recipe for Broccoli, Lemon and Parmesan Soup offers flavors that are bright and complex, savory and soothing, and most perfect for winter.
Pizza
Caramelized broccoli brings boatloads of flavor to a pizza, as well as an extra boost of nutrients. In our Broccoli Pizza, we pair it with pesto, sun-dried tomatoes, goat cheese and pine nuts for an irresistible pie.
Salad
Most traditional broccoli salads call for mayonnaise, which not only is loaded with calories but also feels dated. Our modern take on this salad uses yogurt and avocado instead to create a creamy dressing, while grapes, carrots and pumpkin seeds add sweet, crunchy flavor. Make Broccoli Salad with Creamy Avocado Dressing for lunch or enjoy it as a side salad for dinner.