Global nachos
This article was originally published in January 2015
We all know the classic Mexican version, but the basic technique holds up to a world of fun variations.
Spread a single layer of chips on a rimmed baking sheet, then distribute the non-cheese toppings evenly. Repeat for another layer, then finish with a fairly thick coating of cheese, with the primary goal of making sure that you don't end up with a lonely, naked chip.
Bake at 350° F, but the time varies according to the starting temperature of the spreads and the type of chips and cheese. You want the cheese gooey and the chips hot and lightly browned on the edges; 10 to 20 minutes should do it.
Indian Nachos
Chip: Bandar Lentil Crisps
Spreads: Hope Original Lentil Dip
Cheese: Small cube of Appel Farms paneer
Garnish: Diced cucumber, plain yogurt, Bandar Mint Cilantro Sauce
---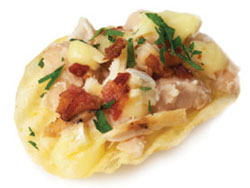 French Nachos
Chip: Krinkle Kettle Chips, Light Salt
Spread: Shredded roast chicken, chopped cooked bacon, mashed cannellini beans
Cheese: Small cubes Le Châtelain Brie
Garnish: Fresh parsley
---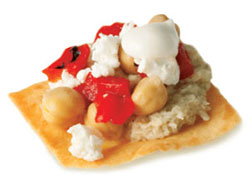 Turkish Nachos
Chip: Stacy's Naked Pita Chip
Spread: Baba ghanouj, canned chickpeas, chopped roasted red peppers
Cheese: Valbreso sheep's milk feta
Garnish: Karam's Garlic Sauce
The sweet side
Delight the kids with S'morchos: Layer graham crackers, chocolate chips and marshmallows on a rimmed baking sheet and pop under the broiler until the chocolate is soft and the marshmallows toasty.