DIY: charcuterie
This article was originally published in December 2014
Change up your party menu by shifting cured meats from an extra to the star of the show. With a few simple guidelines, you can assemble a plate that will make you proud.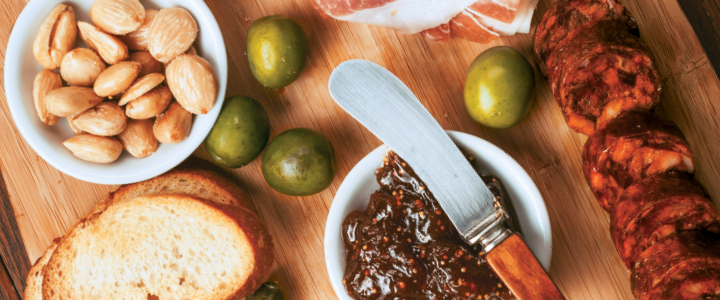 Textures
A proper platter offers an array from chewy salami to butter-like pâté. Thinly sliced cured hams like prosciutto and speck fall in the middle — airy and delicate, with plenty of rich fat. Crisp crostini are the perfect delivery method for any pâté, and a dish of Marcona almonds will provide a welcome crunch.
Flavors
Choose the meats to offer a range of flavors like smoke, warm spices or chilies, then balance them by providing complementary acidic or sweet flavors. If your guests prefer spicy heat to salty-sweet, go ahead and adjust for that preference, balanced by some extra brine.
Accessories
The two goals are to brighten flavors and balance textures. Cornichons and honey are classics on the sweeter side, while olives of all kinds, cured peppers and capers fall on the salty side. Preserved lemon confit is a fun twist that provides lemony brightness with a gentle touch of sourness.
How much to buy?
Plan on a total of about 2 ounces of meats per adult — just so everyone can have a few slices of their favorite. Find more tips on our holiday guide page.
Mediterranean plate
Fiorucci Proscuitto
Fermin Iberico Chorizo
Alexian Duck Liver Mousse with Cognac
Beaufor Cornichons
Marcona almonds
Dalmatia Fig Spread
Castelvetrano olives
Spicy & smoked plate
La Quercia Speck Americano
Napoleon Baby Smoked Oysters
Olli Calabrese Salami
Alexian Pâté de Campagne
Mama Lil's Kick Butt Peppers
Mustapha's Preserved Lemon Confit
Mustapha's Caper Berries