Frozen Banana Pops
Taste June 2014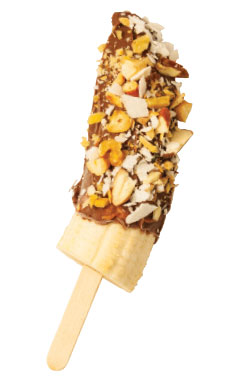 Dip into summer with these easy, fun treats that can be customized to suit your tastes. Follow our basic technique, browse our suggestions for toppings and enjoy these cool pops!
Choose firm-ripe bananas — they're easier to work with and can better support the dips and toppings.

Peel and then cut each banana in half crosswise. Insert a Popsicle stick, craft stick, chopstick or straw into each half. Take your time, so you don't split the banana!

If you have time, place the bananas on a parchment-lined baking sheet and stick them in the freezer for 30 minutes. This will help the toppings stick to the bananas.

Dip bananas in melted chocolate or caramel, or carefully spread them with nut butter or yogurt.

Place toppings in shallow bowls; roll dipped bananas in the toppings, using your hands, if necessary, to make sure the banana gets well-coated. Return to the parchment-lined pan and freeze until solid, about 3 hours.


Enjoy right away or store in a sealed container in the freezer for 2 weeks.
Customize your own — toppings to try
PICK A BASE LAYER:
Chocolate or caramel sauce –
Fran's creamy and indulgent dipping sauces can be used hot or at room temperature
Nut butter –
Grind your own almond or peanut butter in our bulk department
Vanilla yogurt –
Try creamy whole milk yogurt from locally based Grace Harbor Farms
ADD TOPPINGS:
A trip to the PCC bulk department will provide all kinds of tasty options.
Chopped nuts –
Try Grizzlies Salted Nut Mix
Shredded coconut or other dried fruit –
You'll find an assortment of PCC's own dried fruits to choose from
Granola –
Check out our granolas baked fresh by the PCC Bakery
Sunspire Sundrops –
For a real chocolatey treat, add SunDrops (the natural equivalent of M&M's)
---
Healthy Kids Cook: Banana Pops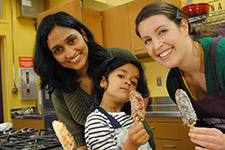 Frozen Banana Pops are a tasty treat for kids too. Our hands-on recipe is ideal even for very young children, who can participate in making the pops. Watch PCC Chef Jackie Freeman prepare Frozen Banana Pops with five-year-old Sameeksha, and get more ideas for kid-friendly toppings, in our Healthy Kids Cook video series.