Sodas that pop
This article was originally published in July 2012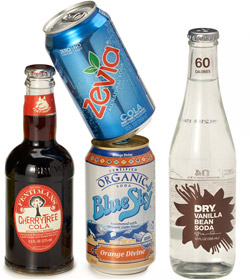 Summer sunshine calls for ice-cold beverages that satisfy. You'll find flavorful sodas at PCC that not only quench your thirst but are free of high fructose corn syrup and other artificial ingredients too.
If you like botanically brewed soda… Using a century-old recipe, Fentimans brews and ferments herbs and milled roots over seven days to create a single soda. These unfiltered, botanical ingredients lead to a refreshing, "invigorating" taste. Try Ginger Beer, Victorian Lemonade, Mandarin and Seville Orange Jigger, and Cherrytree Cola.
If you like traditional soda… Sweetened with pure organic cane sugar, Blue Sky Soda tastes just like the traditional stuff, but it doesn't contain any of the artificial ingredients that make up most sodas. Its certified organic line also is caffeine free. Choose from six-packs of Root Beer Encore, New Century Cola, Black Cherry Cherish, Orange Divine and Ginger Ale.
If you like diet soda… Containing zero calories and no sugar, Zevia is made with stevia, a plant from the sunflower family that is 300 times sweeter than sugar but has no effect on blood sugar levels. For those needing a pick me up, Zevia offers three flavors that contain caffeine naturally derived from coffee — Cola, Dr. Zevia and Mountain Zevia — while its caffeine-free flavors include Lemon Lime Twist, Orange, Grape and Ginger Root Beer.
If you like less sweet soda… Made from only four ingredients, DRY Soda contains just 45 to 70 calories and 11 to 19 grams of sugar in each 12-ounce bottle. Locally based in Seattle, DRY uses fruit, flowers and herbs for delicious, distinct flavors. Try Lavender, Vanilla Bean or Cucumber.
Mixing mocktails
A cool summer drink doesn't have to include the hard stuff. Try these mocktail suggestions and get creative mixing your own by muddling different herbs and incorporating your favorite fresh fruits.
In a glass, muddle together 1 cup pitted fresh cherries and 1 tablespoon fresh mint. Stir in 1 tablespoon lime juice. Fill glass with ice and top with 3/4 cup Blue Sky Organic Black Cherry Cherish. Garnish with mint sprigs.
Slice 5 strawberries and place in a glass. Add 4 ounces Fentimans Mandarin and Seville Orange Jigger and 4 ounces club soda; stir to combine. If you like, garnish with extra strawberries.
Make a lavender-rosemary simple syrup by placing 1 cup water, 1/4 cup sugar, 2 sprigs rosemary and 1/2 teaspoon lavender buds in a pan over medium heat. Once the sugar has dissolved, remove from heat and allow to cool. Strain the syrup. Muddle 2 to 3 grapes in the bottom of a mixing glass. Add 3/4 ounce simple syrup, 1/2 ounce lemon juice and 2 ounces lemonade and shake well with ice. Strain into a glass filled with ice. Top with 1 ounce DRY Lavender Soda.
Fill glass with ice. Add 1 cup Zevia Lemon Lime Twist, 2 tablespoons grenadine and 1 tablespoon orange juice. Stir until combined. If you like, garnish with an orange slice or maraschino cherry.