Welcome summer
This article was originally published in June 2012

Summer in the Northwest is fleeting but oh-so-magical. We're here to help you savor every moment of sunshine and balmy, salty breezes with best bets for fun and tips and tricks for favorite summertime eats.
Discover terrific summer recipes
Five products perfect for summer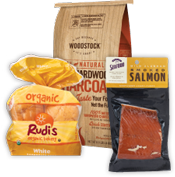 Rudi's Hamburger Buns — Whether you prefer a soft, white, fluffy hamburger bun or something a little heartier, you'll find fantastic, certified organic options from Rudi's Organic Bakery. Choose from White, Wheat, 100% Whole Wheat and Spelt buns.
Woodstock Farms All-natural Lump Hardwood Charcoal — Grill green all summer long with sustainably harvested charcoal, gleaned from wood from tree pruning and forest thinning. It's packed in a biodegradable bag and doesn't contain coal, fillers or chemicals.
Columbia Gorge Organic Lemonade — Cool off with this satisfying old-time favorite. Sweetened naturally with organic agave, this lemonade is the perfect amount of sweet-tart, and it's loaded with vitamin C. Look for it in 64-ounce chilled bottles, available in July.
PCC Smoked Salmon — Perfect for picnics and potlucks, our premium, hand-filleted, wild Alaskan smoked salmon is locally crafted in small batches over fires stoked with fruit and maple wood. Choose from two varieties of cold-smoked salmon (lox) and three fully cooked options.
PCC Deli Raw Zucchini Noodle Pesto — Cool and refreshing, this new dish in the PCC Deli eats like real pasta when zucchini is transformed into "noodles" to provide a raw, vegan and wheat-free treat. Creamy, classic pesto adds fantastic flavor.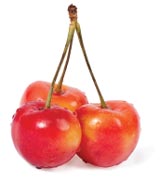 In season
Organic, local and seasonal: three words that set our hearts beating faster at PCC. Take advantage of summer's delicious freshness with this glance at what Northwest bounty will arrive when to our produce department.
June: Peas, strawberries, lettuce, radishes, chard, collard greens, kale, the last of the local asparagus
July: Cherries, blueberries, raspberries, beets, blackberries, bok choy, cucumbers, eggplant, Walla Walla onions, first peaches, green beans, cabbage
August: Peaches, plums, nectarines, corn, carrots, chile peppers, bell peppers, potatoes, tomatoes, rutabagas, summer squash, turnips, shallots, watermelons
Potluck picks from our deli
Stop by the PCC Deli the next time you need a crowd-pleasing entree or side to take along to a picnic.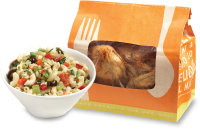 Macaroni Salad — Our take on this traditional salad features organic macaroni, mayo, Dijon, olives, celery, bell peppers and parsley.
Emerald City Salad and Hearty Greens Caesar Salad — Healthy chard or kale offers a fresh counterbalance to rich casserole dishes and pasta salads.
Rotisserie Chicken — Take along a hot, expertly seasoned, free-range chicken as an easy entree. Put the leftovers to work in tacos or chicken salad.
Angel Food Cake — A heavenly dessert paired with just about any summertime fruit, caramel or chocolate sauce, or Devonshire cream.
Pre-cut fruit — Toss together an easy fruit salad or sangria for a crowd with our ready-to-enjoy seasonal fresh fruit in the deli, including organic melon and berries. Add fresh PCC Bakery granola and your favorite yogurt for quick-and-easy party parfaits.