Sipping cider
by Julie Johnson, former PCC Wine and Beer Specialist
This article was originally published in June 2012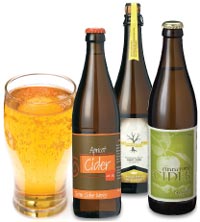 As Washingtonians, we proudly claim our rightful place on the stage of world-class wines and cult-status beers. But waiting in the wings is our rising star in the world of craft beverage: artisan hard (fermented) cider. For nothing could be more expressive of Northwest terroir than cider, created from the fruit of our orchards. There is a revival of the ancient craft of hard cider-making, and Washington state is poised to play a starring role.
Hard cider once filled the mugs and steins of North Americans, but by the mid-19th century, it had fallen out of favor as beer and eventually wine became the popular choices. Modern cider-making has suffered a bad rap, as many mass-produced ciders are made from juice concentrate and with sugar added just before bottling, creating a sticky-sweet punch that disguises the crisp, pure fruit flavors of a classic dry or off-dry cider.
The best ciders are made from traditional cider apples — very different from the varieties you see in our produce departments. You also will find delicious ciders infused with black currant, cherry, apricot or pear juices, as well as a style called "Perry," which is made from varieties of pear cultivated specifically for cider.
PCC is delighted to present local artisans such as Snowdrift Cider Co. in East Wenatchee, Tieton Cider Works in the eponymous central Washington town, and Finnriver Farm in Chimacum on the Olympic Peninsula (Finnriver recently was named the 2011 beverage artisan Local Hero by Edible Seattle). These are not just cideries, they are working farms — cultivating cider apple orchards, berry fields and hop vines. Each pursues sustainable production methods to create traditional and modern cider styles that pair beautifully with a wide variety of foods and are among the most delectable expressions of our region's agricultural bounty.
Tips for serving
Like fine sparkling wine, hard cider is an ideal accompaniment to a vast array of cuisine. Lightly effervescent with bright acidity, cider lifts heavy dishes and works wonders with cheeses; an off-dry style — with its natural sweetness — will partner perfectly with Pan-Asian meals. Serve your ciders lightly chilled (45° F to 54° F) in a long, tapered pilsner glass or sparkling wine flute to gently release the delicate aromas and carbonation. Here are some of our favorite pairings:
Finnriver Farm Dry Hopped Cider Add to list with Roasted Asparagus and Wild Halibut Salad with Chèvre and Warm Rhubarb Vinaigrette. View recipe »
Tieton Cider Works Apricot Cider Add to list with Wild Salmon with Pan-seared Apricots and Summer Berries in a Baby Arugula Salad. View recipe »
Snowdrift Cider Co. Orchard Select Add to list with Spicy Tofu Pineapple Rice Salad. View recipe »