Nature-friendly facial care
This article was originally published in May 2012
Your delicate facial skin withstands a daily barrage of natural elements, from wind and rain to sun and dust. Luckily, you can protect your skin with products culled from nature.
Our facial care products are carefully selected from leaders in the organic and natural products industry. Not only are they safe for the environment and your body, they will keep your skin happy, radiant and healthy.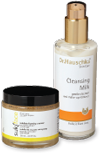 Clean your face twice a day
Dr. Hauschka Cleansing Milk uses fermented grain extract — called Brottrunk, which is a traditional European health drink — to gently remove make-up, dirt and impurities.
For a deeper clean, exfoliate two or three times a week. Suki Exfoliate Foaming Cleanser uses lemongrass and gentle sugar-based alpha hydroxy acids to unclog pours, resurface and smooth your skin.
---

Replenish skin with moisturizer
DeVita Solar Protective Moisturizer SPF30 SPF30+ sinks deeply into your skin while providing sun protection; wear this feather-light, sheer moisturizer underneath make-up.
MyChelle Supreme Polypeptide Cream Unscented uses plant-based polypeptide molecules to plump up your skin's collagen while improving your skin's smoothness.
---

Bring your skin to its ideal PH balance
Dr. Hauschka Facial Toner tones your skin with anthyllis and witch hazel extracts.
Locally based Gabriel Organics offers a Red Seaweed Purifying Tonic that works well for people with sensitive skin or allergies.
---

Try special treatments
MyChelle Fabulous Eye Cream is a light but penetrating cream that uses plant stem cells to rejuvenate the tender skin around your eyes.
MyChelle Perfect C Serum helps fade age spots and the pink skin left behind after acne disappears.