Snacks for the great outdoors
This article was originally published in May 2012
Gear? Check. Water? Check. Hearty snacks? Head to PCC for options that stand up to the weather and keep you moving. It's tricky to hike with a cooler strapped to your back, after all.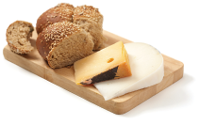 Cheese to take along
An outdoor jaunt calls for cheese that won't wilt. Pair these substantial options with crackers, fresh fruit, or hunks of bread.
Goat Gouda: Savor with dark bread or fresh fruit
Jack: Try smoky Mt. Townsend Creamery Camp Fire
Manchego: Enjoy with almonds or spread with fig paste or quince jam
Emmentaler: A delightful, pairs-with-anything Swiss cheese
Ekte Gtetost: Fudgy and complex, wonderful with flat bread and jam
To improve longevity, wrap your choice in Formaticum Cheese Paper, popular with cheesemongers and available in the PCC Deli. The double layer traps in humidity but keeps moisture off the surface of the cheese. Cloth also works, but our cheese specialists advise against plastic wrap, parchment and wax paper, which offer less protection.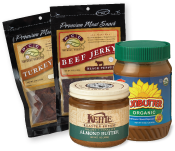 Protein on the go
PCC's jerky selection is held to the same high standards as the rest of the meat we sell: free of antibiotics and added hormones; big on flavor. Choose from Beef (Teriyaki, Black Pepper, Original), Buffalo (Original, Teriyaki) or Turkey (Original, Black Pepper).
Tired of the same old PB&J? Try pumpkin seed butter with sliced bananas; almond butter with sliced apples and Gouda; sunflower butter with honey; or hazelnut butter on rye.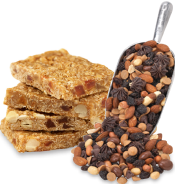 Energy boosters
Mix up your own trail mix with the variety of different nuts, candies, granola and more in our bulk section. Or, combine your trail mix favorites with rolled oats, maple syrup, nut butter and other energizing ingredients and make Homemade Energy Bars with this handy recipe from PCC Nutrition Educator Leika Suzumura.
Produce that's up for the hike
Think sturdy, like carrot sticks or baby carrots, celery, cucumber slices, apples, oranges and dates. One fun option: a whole avocado. Let it ripen in your pack, then carve and smear on flatbread or crackers with salami. Organic dried fruit is an easy way to pack more variety. Look for organic dried mangoes, papaya spears, banana chips, raisins, California apricots, cranberries and many other satisfying options at your local PCC.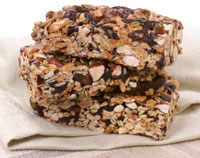 High energy, bar none
Hit our bakery before your next outdoor adventure for our freshly crafted energy bars. Packed with organic fruit, nuts and grains, they'll keep you going strong. Kasha Energy Bars are wheat-free and include toasted buckwheat and oat bran with tahini, almond butter and organic dates; Harvest Fruit and Nut Bars feature apricots, cranberries, walnuts and pumpkin seeds.
Tips for packing your snacks
Pack your cold items (water, fresh fruit, cheese, etc.) together to keep them chilly longer. For longer trips, focus on nonperishable items.
Flatbreads and wraps and pita are tasty sandwich-making options that won't squish in your pack. Find Sandwich Flatz from Rudi's Organic Bakery, easy-to-roll-up Mountain Bread, pita from Bread Garden and many other options in our bread aisle.
Avoid overly salty foods as they will make you drink more water. Take along enough water for your hike and stow an extra jug in the car so you're never thirsty.