Sustainable stars
This article was originally published in April 2012

Always leave the soil better than you found it.
— Rupert Stephens, father of Nature's Path founder Arran Stephens
At its heart, sustainability is about balance: growing food and making products while maintaining a healthy environment; conducting business while treating workers and customers with care; creating a profit while helping communities also prosper. As we reflect on Earth Day, meet four PCC producers that excel in sustainable practices.
R.W. Knudsen Family and Santa Cruz Organic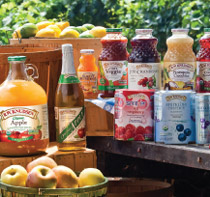 Those refreshing fruit elixirs from R.W. Knudsen Family and Santa Cruz Organic deliver more than vibrant flavor: They hail from a distribution facility in California that earned LEED (Leadership in Energy and Environmental Design) Gold certification from the U.S. Green Building Council in 2010.
The 157,000-square-foot warehouse generates more than 90 percent of its total energy needs via solar arrays, methane turbines and natural gas microturbines. It consistently has been recognized by California's Waste Reduction Awards Program for features that include a solar water heater that provides more than half of the building's hot water needs, skylights and translucent wall panels that reduce lighting and energy needs, and innovative water management. More than 90 percent (283,000 pounds) of construction waste materials were recycled during construction, and materials used were made from recycled content.
Beyond production, the juice makers are committed to sustainable agriculture and juices free of added sugar, artificial colors and preservatives. Look for R.W. Knudsen Family nectars, spritzers, pure juices, sparkling fruit beverages, juice boxes, tomato and vegetable juices and Recharge sport beverages, and find Santa Cruz Organic lemonade and limeade, juices and fruit spreads at your local PCC.
Nature's Path Organic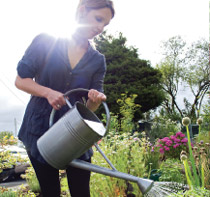 At the foundation of Nature's Path Organic lies a simple principle: "Always leave the soil better than you found it." This belief affects every aspect of its business, including energy consumption, packaging, products, the welfare of its employees and the way it gives back to the community.
Based in Richmond, B.C., with a facility in Blaine, Wash., Nature's Path, together with PCC, was one of the first companies to sign on to the Declaration of Sustainability, an 11-point action plan created by the Sustainable Food Trade to move the organic food trade toward more sustainable business models. All of Nature's Path's products (cereal and granola bars) are certified organic and Non-GMO Verified. In 2010, these organic growing methods prevented over 16.5 million pounds of synthetic fertilizers from going into the soil. And in 2011, Nature's Path donated $500,000 to the Center for Food Safety's campaign for mandatory labeling of genetically modified foods.
At its headquarters, Nature's Path has an experimental green roof, an onsite organic garden that is fertilized with compost generated from office waste, and a rainwater harvesting system. And it doesn't stop there: In 2012, Nature's Path's goal is to divert 95 percent of waste from going to the landfill and 99 percent by 2014. By 2020, they hope to be certified climate neutral.
Earth Friendly Products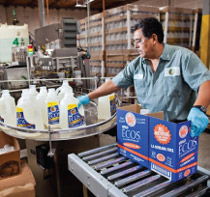 Many of us desire a clean home without exposure to harsh chemicals. Earth Friendly Products helps ease our minds with power-packed laundry detergent, dish soap and other cleaning products that are free of toxins, petrochemicals, bleach, ammonia, phosphates and other harmful ingredients. These plant-based products do not bio-accumulate or mimic human hormones.
But family-owned and -operated Earth Friendly didn't stop there. The Illinois-based company placed its factories around the country to reduce shipping distances, to maintain quality control over each step of production, and to source its raw materials locally, supporting regional economies. Its newest facility, designed by a LEED-certified architect, opened in Lacey, Wash., in 2010. Just a few of the features: high-efficacy lighting, occupancy sensors to reduce energy needs, low VOC paints, non-toxic glues and sealants, recycled tire flooring, and permeable paving for water management. Earth Friendly is installing 200 solar panels to the roof that are expected to supply about half of the plant's energy needs.
It offers incentives to employees who purchase hybrid cars, move within 10 miles of work, and also those who carpool or bike to work.
Find Earth Friendly laundry detergent, dish soap, dishwasher liquid, furniture polish and all-purpose cleaner at your local PCC.
Wild Carrot Herbals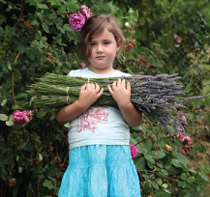 While small, Wild Carrot Herbals in Rickreall, Ore., is doing big things in the way of environmentally friendly skin care products. With a degree in sustainable agriculture from Evergreen State College, owner Jody Berry organically grows many of the botanical ingredients used in her plant-based products on her three-acre family farm. Other ingredients are wildcrafted from the surrounding area, and when Berry has to source ingredients elsewhere, she chooses local and fair trade, developing personal relationships with "real live folks."
Many conventional skin care products are laden with paraffins and other non-renewable byproducts of crude oil; Wild Carrot's handcrafted skin care products are so pure you practically could eat them. Baby Carrot Herbal Chest Rub contains ingredients such as Oregon lavender and wild rosemary. Mountain Man Lotion has organic white grapefruit and wild cypress. There's also Saffron Seed Facial Cream and Jasmine & Carrot Seed Cuticle Cream. You'll find these products and many more on the shelves at PCC.
Wild Carrot packages its products in glass, and the boxes holding the bottles are entirely compostable, made from post-consumer waste. When shipping, Wild Carrot uses biodegradable peanuts and recycled cardboard boxes.