Nuts over nut butter
This article was originally published in March 2012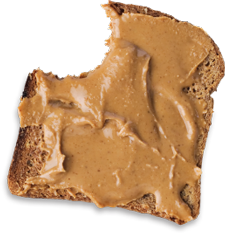 PB&J always will be a classic, but the emergence of new nut butters provides loads of nutrition and flavor in delicious, creamy (or crunchy!) form. Whether you're a cashew lover, prefer pecans or go wacky for walnuts, here's a sampling of what you'll find at PCC.
Amazing almonds
Rich and naturally sweet, almond butter contains calcium, magnesium and potassium, which help strengthen bones and muscles. Also a very good source of vitamin E, almond butter can boost immunity. You'll find a variety of almond butters on our shelves, including a crunchy, lightly salted option from Kettle; several blends from MaraNatha including raw and organic, and creamy with honey; and creamy and crunchy options from Zinke Orchards in California. Zinke also provides the almonds in our bulk section, where you can grind your own almond butter and get just the amount you desire at peak freshness.
Small seeds
While not a nut, sunflower seeds make a fantastic butter that is most similar to peanut butter in taste and consistency, providing a great option for those with peanut allergies. Additionally, sunflower seed butter is a good source of protein and also boasts a high vitamin E content. Try organic, crunchy, and no-stir creamy blends from SunButter.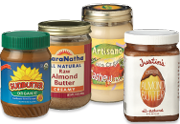 Endless options
High in protein and a good source of B vitamins, cashew butter is exceptionally creamy, great in smoothies and sauces. We carry options from Artisana and MaraNatha. Heart-healthy pecan butter contains more than 19 vitamins, minerals and antioxidants. Find it from Artisana and Wilderness Poets*. If you're after omega-3s, pick up a jar of Artisana walnut butter. Also available: macadamia butter from Wilderness Poets*, hazelnut butter from Kettle and delicious, healthy pumpkin seed butter from Omega Nutrition.
Sweet and smooth
When combined with chocolate, nut butters turn into a decadent treat. Use as a dip for fresh fruit, spread onto a crepe or eat it by the spoonful. Try Justin's Chocolate Almond Butter or Chocolate Hazelnut Butter, Rapunzel Organic Chocolate Hazelnut Butter, or Wilderness Poets* Cashew Cacao Hempspread.
* Wilderness Poets nut butters are available in single-size servings in the PCC Deli.