Exercise your green thumb
This article was originally published in March 2012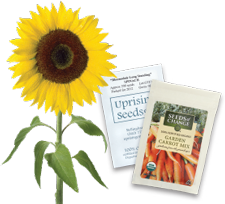 Go seed to table this year with the help of Uprising Seeds in Bellingham, Wash., and Seeds of Change in Southern California.
As Washington's first 100 percent certified organic seed company, Uprising selects seeds that are best suited for our region, focusing on open-pollinated and heirloom varieties. "We love seeking out, trialing and breeding varieties that thrive in our quirky and challenging, cool maritime climate," says Uprising owner Brian Campbell.
A couple of Campbell's favorite varieties include Blacktail Mountain Watermelon. Blacktail's vines produce icebox-size, sweet, red melons even in marginal years. Rockwell Dry Beans are an heirloom dry bean that's been grown for over a century in the Coupeville area on Whidbey Island. Exclusive to Uprising, this bean's rich flavor is excellent for everything from chili to baked beans. You'll find Uprising Seeds at Greenlake, Issaquah, Seward Park, View Ridge and West Seattle PCC stores.
Seeds of Change was founded in 1989 by a group of passionate gardeners who wanted to preserve the biodiversity of heirloom and traditional seed varieties and promote sustainable, organic agriculture. You'll find a wide range of certified organic vegetable, flower and herb seeds from Seeds of Change at all PCC stores.
So get planting — there's nothing better than enjoying fruits and veggies grown in your own yard!