Locally grown leeks
This article was originally published in February 2012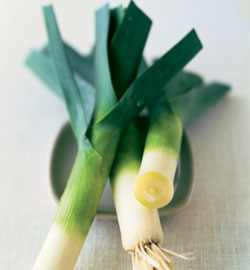 They may be related to onions, shallots, garlic and scallions, but leeks lend a delicate and sweeter touch to dishes, from soups and salads to gratins and sauteés. Here in the Northwest, they're at their best in the fall through the early spring, and are hardy enough to weather even the snow.
Leeks have been cultivated in Central Asia and Europe for thousands of years and were prized by the ancient Greeks and Romans for their health benefits — they're a very good source of manganese, vitamin C, iron, folate and vitamin B6. This particular combination of nutrients makes leeks helpful in stabilizing blood sugar.
Look for leeks with firm, deep green leaves and snowy white necks, free of yellowing or bruising. Slender leeks (with a diameter of 1 1/2 inches or less) tend to have a tender, less fibrous texture. Fresh leeks should be stored unwashed and untrimmed in the refrigerator, wrapped loosely in a plastic bag to retain moisture.
Simple ways to use leeks
Sauté leeks and fennel in olive oil or broth. Garnish with fresh lemon juice and thyme.
Add leeks to soups and stews for extra flavor.
Thinly slice leeks and use as a pizza topping.
Add sliced leeks to your favorite omelet or frittata recipe.
Brush leeks with oil and grill.
Braise leeks (a method that brings out the best flavor) and sprinkle with fennel or mustard seeds. This makes a nice side dish for fish, poultry or steak.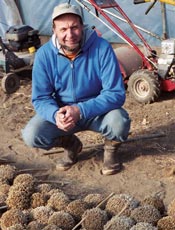 Meet our grower
Ralph's Greenhouse
Sixty miles north of Seattle in the Skagit Valley, Ray DeVries carries on the farming traditions of his Dutch family with Ralph's Greenhouse. His father, Ralph, emigrated from the Netherlands in the 1950s. He started Ralph's Greenhouse around 1980, growing vegetables for friends and the market.