Tips for healthy joints
This article was originally published in February 2012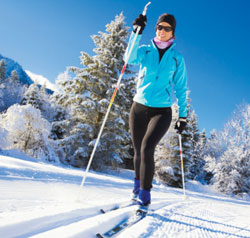 Painful, creaky joints can make even simple movements downright unbearable. We asked health and body care coordinators Roxanne Green of Redmond PCC and Bryan Kiehn of Issaquah PCC for their top tips to ease inflammation.
First thing first: Both Roxanne and Bryan advise pain sufferers to start with a trip to the doctor to discern the source so that health and body care staff at each PCC location can recommend products to treat appropriate symptoms (and, avoid potentially harmful drug interactions).
Is it a lack of cartilage? "Glucosamine can help," Roxanne says. For a lack of lubrication, she recommends hyaluronic acid, which acts as a cushion within joints. For arthritis: Zyflamend, an herb-based remedy, or Ginger Force, a highly concentrated ginger dietary supplement, both by New Chapter.
For mild aches and pains, however, both recommend starting with the basics: foods rich in anti-inflammatory compounds, including ginger tea and cherry juice. "Everybody's different, but if we can get the inflammation down, the joint has the basis to rehabilitate itself and, just like anything, it will regenerate," Bryan says.
Bryan is a big advocate of hyaluronic acid, collagen (he likes Joint Vibrance from Vibrant Health) and omega 3-rich fish oil to promote joint health.
"I call it the Tin Man Effect: If we don't get enough oil in us, we seize," he says. "We definitely have to have oil in our diets, and people are still afraid of oil."
Joint health supplements and remedies are held to the same quality standards as all other products at PCC (learn more about prohibited ingredients). "We don't sell gimmicks or cheap ways to fix things," Bryan says. "We have the tried and true."
10 best-selling joint remedies at PCC
Natural Factors Glucosamine Chondroitin
Natural Factors Osteo Move Joint Care
New Chapter Zyflamend
Natural Factors Glucosamine Sulfate
Natural Factors MSM Joint Formula
Nature's Way Glucosamine Chondroitin
PCC Joint Support Softgels
PCC Glucosamine(vegetarian)
PCC Glucosamine Chondroitin Complete
Natural Factors Turmeric & Bromelain
Edible help
Wild salmon and halibut offer abundant omega-3 fatty acids, which help relieve inflammation.
Chiles contains capsaicin, which can help relieve joint pain. Bell peppers are rich in vitamin C to help the body repair itself.
Turmeric, a signature ingredient in many curries, as well as fresh-grated ginger root and cherry juice all contain various anti-inflammatory compounds.
by Karen Gaudette, PCC Taste, February 2012