Artisanal flagship cheeses
by Karen Gaudette
This article was originally published in February 2012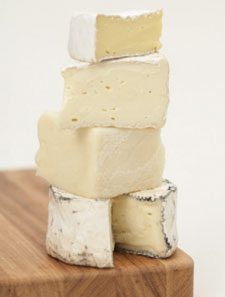 A creamery's flagship cheese is a cheese of distinction, earned for its remarkable flavor, its cheese world accolades, or its status as first-born or most beloved within a family of cheeses.
Such traits make flagship, or signature cheeses, a natural starting point when trying a new-to-you creamery's offerings. Many are named for local landmarks or weather patterns to capture the essence of where they're crafted. Let's get to know signature cheeses from several artisanal and farmstead creameries of note.
Kurtwood Farms, Vashon Island, Wash.
Dinah's Cheese is a farmstead cheese, meaning it's crafted exclusively from the milk of Jersey cows that live right on the farm. Dinah, named for cheesemaker Kurt Timmermeister's first cow, is a fresh, Camembert-style cheese that tastes of mushrooms and earth, wonderfully golden, rich and buttery. It's just right spread on a baguette, paired with a Gamay or Pinot Noir.
Cowgirl Creamery, Point Reyes Station, Calif.
Cowgirl named its signature cheese Mt Tam in deference to Mt. Tamalpais, a San Francisco Bay area landmark that rises from the hills just north of the Golden Gate Bridge. This organic, smooth, creamy and elegant triple cream is firm, yet buttery, with a mellow, earthy flavor reminiscent of white mushrooms. Pair it with Pinot Noir or Pinot Grigio and serve it up with warm bread, nuts and jam.
Beecher's Handmade Cheese, Seattle
Beecher's flagship cheese is named just that, and its origins date back to the creamery
opening its doors at Pike Place Market in 2003. Flagship, a semi-hard cow's milk cheese, is aged for 15 months to create a uniquely robust, nutty flavor with a slight crumble. Enjoy with a Syrah, an India Pale Ale or a Hefeweizen. Or, find Beecher's "World's Best" Mac & Cheese in Flagship or Just Jack (a creamy, whole milk Jack) in our frozen foods section.
Mt. Townsend Creamery, Port Townsend, Wash.
Seastack is named for the ponderous rock formations that adorn Washington's coastline and offers a briny, earthy flavor that continues to unravel with each taste. This creamy, soft-ripened cheese receives a dusting of vegetable ash before ripening to enhance its character and visual appeal. It plays well with fruity spreads, figs, tart apples, and dry, fruity white wines or sparkling wines.