12 ways to stretch your dollar
This article was originally published in January 2012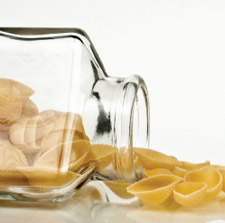 The concept of buying in bulk — heading home with just the amount you need at a good value — extends beyond the bulk department at PCC. Join us for a quick tour as we highlight a handful of items found throughout our stores.
Shampoo, conditioner and more — Reduce the number of plastic bottles you send to the landfill: Get refills of high-quality shampoo, conditioners and body wash from Hugo Naturals and Alaffia. Don't miss Alaffia's rich, creamy fair trade shea butter lotions in bulk as well.
Meat value packs — Find ground beef from Country Natural Beef and PCC Grass-fed Beef, local free-range chicken breast and chicken thighs from Draper Valley Farms and local pork loin from Pure Country Pork. Cook up a big dinner or freeze the extra for future meals.
Eggs — Need just three eggs? Or need three dozen? Buy them in bulk and take home just the right amount for your cooking and baking needs, all raised free-range or organic by Stiebr's Farms in nearby Yelm, Wash.
Pasta — Choose from Mixed Vegetable Spirals, Whole Wheat Lasagna, Spaghetti, Penne and other organic options. We also carry udon and soba noodles in bulk, delicious in Asian-style hot soups and cold noodle salads. A 1/2 cup of bulk pasta yields about 1 cup of cooked pasta.
Bath salts — Soothe your tired muscles and boost your mind and spirit with organic, aromatic, therapeutic bath salts from Shepard Moon Concoctions, made in Seattle. Ease aches and pains, boost circulation and improve a host of other ailments. Buying in bulk makes it easy to sample and find a favorite.
Nut butters — Grind your own organic peanut or organic almond butter in bulk and enjoy a freshness you simply can't get from the jar. Plus you know there aren't any fillers of any kind (just nuts!), and you can get the exact amount you desire.
Mixed greens — We offer organic braising greens, spinach and salad greens in bulk, making it easy to take home enough greens for the week or for just one salad.
Herbs and spices — Does your recipe call for a single cinnamon stick? Want to try a couple of different curry powders? Buy your herbs and spices in bulk, get only what you need, experiment with flavor, and ensure freshness — most herbs and spices should be replaced within a year of purchase.
Beans — Dried beans continue to be one of the most economical proteins available, and you'll find more than 15 varieties in our bulk department, including several kinds of lentils. Cook up a savory batch of beans using our basic recipe for A Big Pot of Beans! and get tips on different ways to use them.
Cereal — Nature's Path Eco Pac organic cereals are a great option for families and serious cereal lovers. Packaged in a 32-ounce soft-pack that uses 66 percent less packaging than a cardboard box, these whole grain cereals are available in multiple flavors. Try Mesa Sunrise (corn, flax, quinoa and amaranth) or Heritage O's.
Sliced deli meats — In the PCC Deli, you can get turkey for a week's worth of lunches or buy just enough roast beef for French dip for two. Choose from oven-roasted, smoked or honey-roasted Diestel turkey (a few of our stores also offer peppered and herbed); smoked maple ham from Pure Country Pork; and deli-made, grass-fed roast beef.
Wine — Save on wine by purchasing any four bottles at a time. You'll receive 10 percent off and get a handsome, reusable wine tote to carry away all that deliciousness.