Eat healthy in the PCC Deli
This article was originally published in January 2012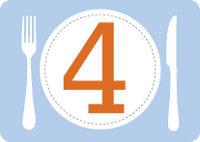 Resolve to nourish your body with the very best — on New Year's Day and throughout the year. Our delis offer creative, wholesome, satisfying entrees, salads and soups made from scratch with fresh vegetables, free-range chicken, organic tofu and organic whole grains.
Since we are what we eat, let PCC help keep you on the right track all year long with plenty of delicious inspiration.
Deli resolutions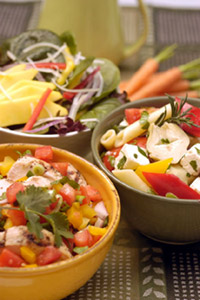 I resolve to exercise more
Power up with protein-rich food. Whether it be a kasha or fruit-and-nut energy bar for a healthy snack or low-fat grilled chicken, tofu or salmon from the deli case, we've got wholesome food to fuel your body. You'll also find plenty of all organic, protein-rich whole beans, including lentils, garbanzos, black and kidney beans.
I resolve to add more variety to my diet
Begin by eating more organic whole grains with salads that let their delicious, nutty flavors shine. We serve emmer farro from Bluebird Grain Farms in our ever-popular Methow Valley Salad; spelt in our creamy, hearty Perfect Protein Salad; quinoa in our new Sesame Quinoa Salad and wild rice in our perennial favorite Emerald City Salad. Other deli dishes feature red and white quinoa, couscous, bulgur and organic rice. Methow Valley and Emerald City both feature hearty, leafy greens galore, with tangy dressings that are a treat for your taste buds.
I resolve to make my own lunch
We offer many naturally cured meats perfect for a sandwich or wrap, such as grass-fed roast beef, and smoked, family-raised Diestel turkey. We also offer delicious chicken salad, egg salad, tofu egg salad and our much-loved tuna salad for a quick-and-easy sandwich or pita. Too busy to make your own? Try one of our freshly made sandwiches, such as our Blackened Tempeh with spicy coleslaw and our Vegan Italian Bacon Submarine.
I resolve to make my calories count
When it's time to indulge, savor our made-from-scratch bakery goodies, free of trans fats, artificial colors and preservatives. Enjoy PCC's rich vegan chocolate cake, classic creamy carrot cake and selection of cookies and muffins. When it's chocolate time (and when isn't it?) experience the wealth of flavor within our fairly traded blended and single-variety chocolates.