What's in store for December
This article was originally published in December 2011
A sampling of the thousands of all-natural items you'll find at your neighborhood PCC. Also explore the newest products to grace our shelves.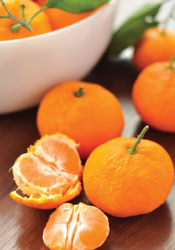 In produce


Sweet Satsumas

With a zesty aroma and tangy sweetness, Satsuma Mandarin oranges are one of the best wintertime gifts Mother Nature has to offer. Packed with heart-healthy vitamin C, plus folate and potassium, they help boost immunity during cold-and-flu season. But who needs an excuse to eat something so lovely?

Find them in our produce department until mid-January. Our Satsumas are grown by Rich
Johansen and his team at Johansen Ranch in
Orland, Calif., a sun-drenched valley tucked between the Sierra Nevada and coastal mountain ranges. Look for his bright, fragrant Clementines and Navel oranges later this winter. Find ideas for even more ways to enjoy Satsumas (in salads, salsas and more) here.
---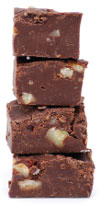 From the PCC Bakery


Holiday favorites

Savor our decadent PCC Bakery Fudge, a smooth, satisfying seasonal favorite. Choose from Chocolate, Walnut or Peppermint, each made from the secret family recipe of one of our PCC bakers! Craving the dynamic duo of chocolate and peppermint?

Take home chocolate cupcakes (regular or mini) or an 8-inch round chocolate cake, both available traditional or vegan and topped with peppermint frosting. And cookie fans, we're baking two new satisfying holiday favorites: Pumpkin Harvest and Russian Tea Cake cookies. Add your own mug of Theo or Fran's hot chocolate, sit back and enjoy!
---
In our holiday candy displays


Local, handpulled candy canes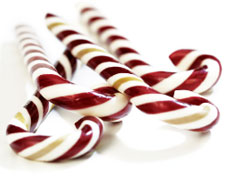 Taste the sweetness of the holiday with locally crafted candy canes from Hannah's Naturals of Tukwila, Wash. Each cheerful swirl of peppermint or cinnamon is hand-pulled by master candy makers using old-fashioned, traditional techniques. This creates an unmatchable lofty texture and flavor.
These canes are just right as a stocking stuffer, hostess gift, in a candy bouquet or as a fun treat for yourself. Each features real peppermint and cinnamon and colors derived from natural fruit and vegetable juices.