Bake with the best ingredients
This article was originally published in December 2011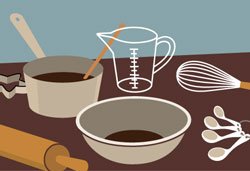 It's time to flour the counter and wrangle the rolling pin. It's time to coax delicious magic from flour, sugar and butter. It's time to stock your baking pantry with help from PCC.
Fresh Flours
When it comes to flour variety, PCC is a baker's dream. We've got the basics, including organic unbleached white flour, whole-wheat flour, whole-wheat pastry flour and cornmeal, all available in our bulk food section. But you also can find packaged flour ground from barley, brown rice, rye, spelt, buckwheat, amaranth, sorghum, tapioca and more. Try barley flour for nutty goodness in cookies, breads and pancakes. Try white rice flour as a gluten-free alternative for cakes.
Gluten-free?
Learn tips and tricks for baking with gluten-free flours.
Sugars and Sweeteners
Sweet on cane sugar? It's time to taste test the wide variety of options, from the rich molasses depth of Muscovado to the sticky, toffee flavor of Demerara. Read more in this Sound Consumer article.
Seeking alternatives?
PCC offers agave, barley malt syrup, brown rice syrup, maple syrup, maple sugar and date sugar, several varieties of molasses, fruit juice concentrates, stevia, and other sweet options. Read more about our alternative sweeteners.
Eggs, Butter and Shortening
You'll find free-range or organic chicken eggs as well as duck eggs (ideal for lofty baking) at all locations. Baking vegan? You'll find powdered Ener-G Egg Replacer and vegan organic shortening.
Spices
Can't recall whether you bought that jar of cinnamon in this decade? Avoid baking with outdated spices. Head home with the spices you need for fresh, flavorful treats by the pinch or by the pound from our bulk spice section. From star anise and cloves to cinnamon sticks and nutmeg, we've got you covered.
---
Is that nutmeg still fresh?
Culinary spices and herbs lose their potency over time. Here are simple guidelines to know when it's time to let go and start fresh for maximum flavor and aroma in your baking and cooking.
Whole spices & herbs:
Leaves and flowers (such as bay leaves, cilantro and cloves): 1 to 2 years
Seeds and barks (such as poppy seeds, coriander and cinnamon sticks): 2 to 3 years
Roots (such as ginseng): 3 years
Ground spices & herbs:
Leaves, seeds and barks: 1 year
Roots (such as turmeric and ginger): 2 years
Tips: Store spices away from heat, light and moisture to keep them fresh longer and preserve color and flavor.
Source: Frontier Natural Products Co-op