Pumpkin seeds: a nutritional powerhouse
by Nick Rose, M.S., PCC Nutrition Educator
This article was originally published in October 2011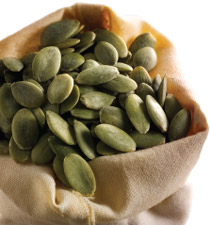 Like all nuts and seeds, pumpkin seeds (also called pepitas) are great dietary sources of protein, fiber and healthy fats. They also contain their own unique package of additional benefits.
Just 1/4 cup of pumpkin seeds (a medium handful) each day provides more than 20 percent of our recommended intakes of protein, fiber and minerals such as magnesium, zinc, manganese, phosphorous, copper and iron. But the primary therapeutic benefit from eating pepitas comes from the healthy fats found inside these flat, dark green seeds. Try this recipe for Black Bean and Pumpkin Seed Quesadillas.
Pumpkin seeds contain a perfect mix of heart-healthy, unsaturated fatty acids as well as plant sterols, a nutrient found in high-fat plant foods such as avocados, nuts and seeds. I like to think of plant sterols as cholesterol's healthy, vegan cousin. Plant sterols block cholesterol from being absorbed in our digestive tract and also reduce our LDL ("bad cholesterol") levels. These sterols are so effective in lowering cholesterol levels that they often are fortified into processed foods specifically so that the food can be marketed as a heart-healthy food choice.
Pumpkin seeds also offer unique health benefits as we age. The healthy fats and minerals found within have proven to be beneficial in males dealing with an enlarged prostate, and some preliminary research suggests that pumpkin seeds also may help reduce menopausal symptoms in women.
But the best reason to munch on pumpkin seeds is because they are an affordable way to satisfy your craving for a salty, crunchy snack. The seeds inside all varieties of winter squash (including those from your Halloween jack-o'-lantern) can be roasted at home, either in the oven or in your skillet. View an easy recipe »
Pumpkin seeds aplenty

In the PCC Deli:
Tuck into a pint of our Aztec Quinoa and Bean Salad. Toasted organic pumpkin seeds add crunch to this modern rendition of several South American staples — quinoa, pinto beans, tomatoes, corn — that's been jazzed up with a chipotle-lime dressing.
Our Pepita Rice — lightly curried, organic basmati rice with sweet, chewy currants and rich, crispy pumpkin seeds — pairs well with a wide variety of entrees from squash to tandoori chicken.
In the PCC Bakery:
Grab a Harvest Fruit and Nut Bar — a high-energy snack that features pumpkin seeds along with nuts, apricots, raisins and cranberries. Our signature fall granola, Maple Almond, is a hearty blend of pumpkin seeds, oats and more that's a great addition to yogurt.
In the bulk section:
Find pumpkin seeds from Oregon as well as organic tamari pumpkin seeds. Get just the amount you desire!

In the grocery aisle:
A delicious, versatile alternative to peanut butter, pumpkin seed butter from Omega Nutrition is rich and creamy and contains only organic pumpkin seeds, organic pumpkin oil and Celtic Sea Salt. Try it on a sandwich or use it to make pumpkin butter cookies.