What to do in October
by Lydia Cox
This article was originally published in October 2011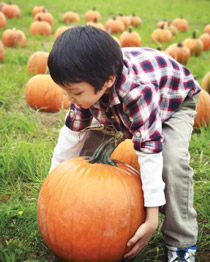 Crisp air, burnt-orange leaves, waning light — October is a time for settling in before the impending holiday season. From pumpkin patches to warm apple cider, there are plenty of ways to embrace the fall season and celebrate all it has to offer. Here are a few ideas to get you started.
Coming into season
Organic Cameo, Braeburn, Pink Lady and Fuji apples; organic pumpkins; organic, local peppers.
Last chance for
Due to the late growing season this year, summer fruit has stuck around. Make sure to grab the last local, organic nectarines; local, organic peaches; and local, organic melons before they're gone for good.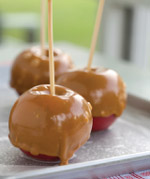 Make caramel apples
Perhaps the preeminent treat of autumn, caramel apples provide sticky-sweet fun, and we have all the fixings to make 'em. Choose from an assortment of locally grown apples, such as Pink Lady, Fuji and Cameo in our produce department. Then look for the special display in your neighborhood PCC store featuring blocks of caramel from Judy's Candy Company, wood sticks and easy-to-follow instructions.
Join the Pumpkin Bash
Bring your little goblins and ghosts to the Woodland Park Zoo for trick-or-treating, live entertainment and more on Saturday, October 29 from 9:30 a.m. to 2:30 p.m. The PCC Kid Picks Mobile will be on-site handing out treats. Also this year watch the zoo animals crunch, smash, bash and stomp on pumpkins as part of the fun. For more info, visit zoo.org/events.
Pick your own pumpkin
Take a trip to a pumpkin patch to find your perfect pumpkin and support family farms. There are many different options just a short drive away, including farms that offer corn mazes to wagon rides to petting zoos to refreshments.
On the Eastside:
To the north: