Chatterbox for October
by Karen Gaudette(@nwfoodette on Twitter)
This article was originally published in October 2011
A tale of three sweet potatoes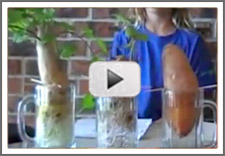 Showing always beats telling when it comes to making a point. One young girl demonstrated this notion with a trio of sweet potatoes and a simple, in-home science project: Which would sprout first, the conventional specimen or the organic specimens? Her neighborhood produce man told her why no vines grew from her conventional sweet potato: a pesticide called Bud Nip (Chlorpropham), which inhibits potato sprouting. Both organic potatoes sprouted within a month. "All those scientific statements that say there's no difference between 'conventional' and organic products? This girl puts them to shame," wrote Raven Jennifer Demers on our PCC Facebook page. Catch the whole video »
3 great reasons to connect with PCC on Facebook
Recipes, recipes, recipes! We post a recipe each afternoon for dinnertime inspiration, with options for a variety of diets throughout the week (omnivore, vegan, gluten-free, etc.). Trying out Meatless Mondays? Follow us for fresh ideas each week.
The latest news and views on food policy
and agriculture.
Community. See what other members and shoppers enjoy. Ask questions. Share your favorite PCC finds. Have fun!