Back to school immunity boost
Roxanne Green is the Health and Body Care Coordinator at Redmond PCC and serves on the Board of Directors of the Natural Products Association, the nation's largest nonprofit organization dedicated to the natural products industry.
This article was originally published in September 2011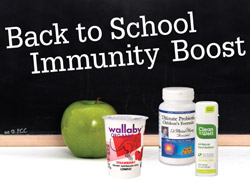 Play offense against the annual barrage of back-to-school germs with these simple tips to boost your immune system from Roxanne Green, Health and Body Care Coordinator at Redmond PCC.
Take a probiotic supplement. "When you have the healthy bacteria you can fight off the bad bacteria," Green says. Probiotics — friendly bacteria located in the gastrointestinal tract — support good digestion and strengthen immunity. While many foods contain probiotics, stress and environmental toxins can destroy them. PCC offers probiotic supplements for children and adults. For kids, try Natural Factors Dr. Murray's Ultimate Probiotic Children's Formula in Natural Strawberry or Nature's Way Primadophilus Kids chewables.
Eat cultured yogurt and kefir. PCC only offers yogurt and kefir with live active cultures for maximum probiotic benefit. Enjoy for breakfast or a snack or stir into desserts and smoothies. Explore the selection »
Eat your greens — or drink them! Packed with vital nutrients and antioxidants, leafy greens also help the body get rid of toxins and keep the immune system strong. For picky eaters, Green recommends adding concentrated greens supplements to water or watered-down juice. "My daughter makes a smoothie for the kids with a frozen banana, water and chocolate greens. They think they're getting a special treat," Green said. Try Amazing Grass GREENSuperFood drink powder in Chocolate, Berry or Orange Dreamsicle. For adults, try New Chapter Organics Berry Green powder.
Wash hands frequently and carry hand sanitizer. PCC stocks alcohol- and chemical-free hand sanitizer from CleanWell, powered by naturally antibacterial thyme oil.
Try an immune defense supplement. Source Naturals Wellness Immune Chewable is chock full of herbs and nutrients to optimize immune system function. For kids, try WishGarden Herbal Remedies Kick-It immune booster.