Breakfast protein options for any diet
by Nick Rose, M.S., PCC Nutrition Educator
This article was originally published in September 2011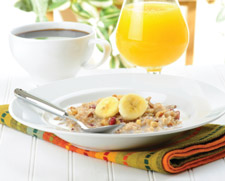 Q: I'm new to a vegan diet. Is there any way to add more variety to breakfast protein? I'm awfully tired of tofu.
Have you ever tried tempeh? Tempeh actually is higher in protein than tofu, is easier to digest and cooks easily. I usually brown tempeh by cooking in oil for about 3 to 4 minutes on each side; then season with chili powder, tamari and garlic; then add some chard for the last few minutes of cooking for a hearty dish. Learn more about tempeh »
Nut butters are a great source of protein, fat and a wide variety of other vitamins and minerals. Add them to a smoothie, spread on a bagel or mix into your oatmeal/porridge. Almond butter on toast is another nice breakfast option.
Grind your own peanut and almond butter in the bulk section »
Energizing blends — In addition to all kinds of peanut and almond butter choices on the shelves, Artisana's creative concoctions allow you to indulge in a variety of nut butter blends. Handcrafted in small batches from 100 percent certified organic nuts, these butters are raw, not roasted. The rich, intense flavor of Organic Raw Pecan Butter is great spread on apple or banana slices. Naturally sweet, Organic Raw Cashew Butter adds creamy texture to smoothies. And Organic Raw Walnut Butter provides a mildly sweet, invigorating spread that is delicious on sliced
bananas, fresh figs or added to smoothies.
One cup of cooked quinoa contains more than 8 grams of protein and is one of the fastest cooking grains (making it a great choice for breakfast). I like to add a tablespoon of maple syrup and a handful of cranberries to my morning quinoa, as well as pumpkin seeds. Try these breakfast recipes with quinoa »
Speaking of pumpkin seeds, seeds are a great addition to oatmeal, porridge, smoothies, etc. Two tablespoons of hemp seeds (which we sell refrigerated above the eggs in most of our stores) contains 11 grams of protein, a full day's worth of omega-3 fatty acids and a good mix of essential vitamins and minerals too. Hemp seeds are easily digestible and, unlike flax seeds, do not need to be ground prior to consumption. Explore our database to learn which seeds you can purchase in bulk.
Many people enjoy yogurt for breakfast, and in addition to cultured cow and goat's milk yogurt, we also offer soy, almond and coconut yogurts. These don't contain as much protein as dairy-based yogurts, but you can add your own nuts
or seeds to them to increase the protein profile. Learn more about the yogurts we carry »