What's in store for June
This article was originally published in June 2011
A sampling of the thousands of all-natural items you'll find at your neighborhood PCC. Also explore the newest products to grace our shelves.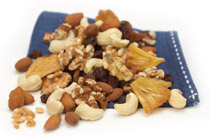 In the bulk department


Hit the trail

Fuel up for outdoor adventures with trail mix from our bulk department. It's great on-the-go energy that's easy to pack on the trail, perfect for road trips or just right for an afternoon snack outdoors. Enjoy the simplicity of a classic mix of almonds, cashews, sunflower seeds and raisins or find a favorite specialty mix. SunRidge Farms' Wild Ginger Harvest Mix is an invigorating blend of crystallized ginger, chocolate chips, roasted tamari almonds, papaya, pineapple, apricots and more.

For a sweeter treat, try their Chocolate Nut Crunch, which features plenty of peanut butter and chocolate. Grizzlies' All Organic Trail Mix is made in Eugene, Ore., with 100 percent organic almonds, walnuts, cashews, raisins and unsulphured nectarines, pears and pineapple. The best part? It's easy to buy a little (or a lot) of each! Learn more about our trail mix »
---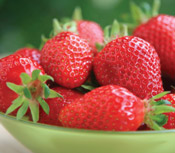 In the produce department


Sweet and local

The arrival of fragrant, organic strawberries from Rent's Due Ranch in Stanwood, Wash. means one thing — the local fruit season is finally here! These sweet gems are delightfully fresh and packed with juicy flavor, perfect any time of day. Loaded with antioxidants, strawberries also may help protect the heart and contain anti-cancer and anti-inflammatory properties, and provide a great dose of vitamin C to boot.

While these local berries are superb all on their own, they also can be dressed up in so many delicious ways. Check out our strawberry recipes.
---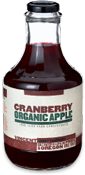 In the grocery aisles


Cool and refreshing

Half a mile from the Pacific Ocean on the southern Oregon coast, Vincent Family Cranberries cultivates cranberries that they transform into delicious, high-quality juice. The cooler climate leads to a hardier berry that's sweeter than average, and the rich flavor is evident upon the first sip.

For a refreshing summer treat, combine 1 cup Vincent Family Cranberry Palm Nectar with 12 ounces lemon-flavored sparkling water, 1/2 cup pineapple juice and 1/4 cup orange juice; serve over ice. Also try Vincent Family Cranberry Marionberry, Cranberry Apple, Cranberry Blueberry and Cranberry Agave juices.