Summer preview
by Lydia Cox and Karen Gaudette
This article was originally published in June 2011
Summer in the Northwest is, in a word, glorious. Take full advantage with this sneak peek at what's coming into season from our local farms and orchards, which events will keep you hopping and plenty of ideas for sharing the season's bounty with friends and family.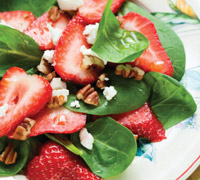 June
Fresh from the farm
Peas, strawberries, lettuce, radishes, last of the local asparagus, chard, collard greens.
Give it a whirl
At your next backyard barbecue, turn to Rudi's Organic Bakery Potato Slider Buns, perfect for baby burgers and small sandwiches. With delicious potato flavor and a hint of sweetness, these certified organic whole grain rolls are perfect for your outdoor gatherings.
Packed with organic fruit, nuts and grains, our made-from-scratch PCC energy bars will keep you going strong during your summertime adventures. Our Harvest Fruit and Nut Bar is made with dried apricots and cranberries, pumpkin seeds and walnuts and is sweetened with brown rice syrup. Our Kasha Energy Bar includes toasted buckwheat and rice bran with tahini, almond butter and organic dates, and is sweetened with organic maple syrup.
That which we call a rosé is nothing to blush about. Pink wines are great soloists — and delicious companions to everything from bouillabaisse to barbecue, tuna to tapas, or shellfish to salads. Pick up a bottle for a warm night to enjoy a dry, sleek, spicy flavor that's cool and refreshing.
In the community
Fremont Fair, Saturday, June 18, 10 a.m. to 8 p.m. and Sunday, June 19, 11 a.m. to 6 p.m. PCC sponsors the Waterfront Stage during this weekend of fun. Saturday, the PCC-sponsored Seattle Storm Dance Troupe will perform. On Sunday, enjoy a Father's Day grill-off between PCC Chef Lynne Vea and PCC Cooks instructor Becky Selengut, who will battle it out using secret ingredients. Also enjoy craft and art booths, street performers, local bands and more. Visit fremontfair.org for more info.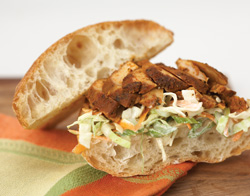 Picnic plan
Gas Works Park hilltop — Gaze upon the city skyline and savor some of our fresh deli sandwiches, such as Tandoori Chicken with Coleslaw and a yogurt dressing wrapped in a bolo roll or our Vegan Italian Bacon Submarine. Round out your meal with some distinctly Seattle treats, such as Lemongrass or Rhubarb DRY Soda, and for dessert, Montlake Mousse.
July
Fresh from the farm
Cherries, blueberries, beets, blackberries, bok choy, cucumbers, eggplant, Walla Walla onions, first peaches, green beans, cabbage.
Give it a whirl
Keep away mosquitoes naturally with Citronella Candles from Big Dipper Wax Works locally based in Seattle. Handcrafted from an exclusive blend of beeswax, soy wax and pure essential oils of citronella and cedarwood, these candles are a beautiful way to illuminate the outdoors while staying bite-free. Choose from votives, tea lights, a functional tin or candles in decorative glass.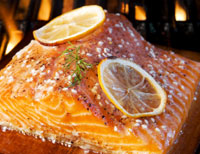 You know the fresh seafood season has truly commenced when vibrant-colored Wild Alaskan Sockeye Salmon arrives in store. This fresh fish has rich flavor and is full of heart-healthy omega-3s. It can be cooked in so many different ways, and even the simplest preparations are sublime — after all, nothing beats a fillet of sockeye barbecued for a summer supper on the patio.
In the community
Admiral Neighborhood Association's Summer Concerts — Every Thursday from July 28 to September 1, 6:30 to 8:30 p.m., Hiawatha Park, 2700 California Ave. S.W., Seattle. Come listen to local music on the east lawn of the playfield. Stop by West Seattle PCC first, located directly across the street, and pick up a deli salad or sandwich to take with you. The Kid Picks Mobile also will be sampling healthy treats for kids. View the schedule of bands playing »
Picnic plan
Boats afloat — Spread your blanket along the downtown Kirkland waterfront or at Seattle's Lake Union Park. For nibbles, consider cooked salmon paired with citrusy Indonesian Rice Salad from the PCC Deli and some ice-cold bottles of Reed's Ginger Brew. Finish with a nice, light blueberry tart, baked fresh by Parisian Star Desserts and available in our bakery cases.
August
Fresh from the farm
Peaches, plums, nectarines, corn, carrots, chile peppers, bell peppers, potatoes, tomatoes, rutabagas, summer squash, turnips, shallots and watermelons.
Give it a whirl
Inspired by the hot summers in Okanogan County where Bluebird Grain Farms grows organic heirloom emmer farro, our Methow Valley Salad contains cooling cucumber and tomato paired with the complex malty flavor of farro and crisp organic greens. Pick up a pint in the PCC Deli for a unique taste sensation that delicately balances sweet, tart, bitter and rich while also being full of fiber, vitamins and minerals to truly satisfy.
Get your roasting stick ready or the grill going — it's dog time! 3 Sisters Family Farms on Whidbey Island produces all-natural, uncured, 100 percent grass-fed beef hot dogs that are perfect for camping, tailgating or an evening on the deck.
Quench your thirst with fresh juices from Evolution. Savor the zing of Organic Ginger Limeade, enjoy the flavor of fresh-squeezed lemons in Organic Strawberry Lemonade and Pomegranate Lemonade, and cool down with refreshing Watermelon juice, which contains two pounds of sweet, ripe watermelon and nothing else!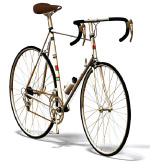 In the community
Bicycles for Education, Saturday, August 20, 10 a.m. to 3 p.m. at Greenlake PCC and Sunday, August 21, 10 a.m. to 3 p.m. at Redmond PCC. Donate your used bicycles and bike parts so children in Togo, West Africa can get to school. Two of our stores will be collecting functioning adult-size bicycles in collaboration with Alaffia Sustainable Skin Care. Please do not drop off bikes or equipment at other PCC locations or on different dates/times. Learn more about Alaffia »
Picnic plan
Beach bound — Take in the Sound from the shores of Marina Beach in Edmonds or Alki Beach with our new Oven-roasted Chicken Pieces from the PCC Deli. Also grab our Macaroni Salad and some fresh, juicy watermelon (our produce staff will cut one for you — just ask!). Wash it all down with Mango White or Black Forest Berry tea from Honest Tea.