5 to try salad dressings
by Karen Gaudette
This article was originally published in June 2011
PCC offers an abundance of delectable salad dressings, from gourmet flavor combinations to comfort choices, including organic, vegan and gluten-free options.
Here are some of our favorites.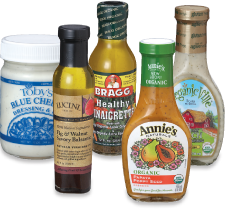 Annie's Naturals Papaya Poppy Seed Dressing — This vegan and gluten-free dressing lends a fruity sweetness to green and fruit salads. Also great as a sauce base for pork or drizzled atop broccoli or avocado.
Bragg Organic Vinaigrette — As close to homemade as it gets, based on the delicious flavor of Bragg Liquid Aminos. Also try Bragg Ginger & Sesame dressing to liven up stir-fries.
Lucini Italia Fig & Walnut Savory Artisan Balsamic Vinaigrette — An elegant dressing with fresh or grilled produce or as a marinade for meats.
OrganicVille Non Dairy Ranch Organic Dressing — This gluten-free, non-dairy dressing offers up the full-bodied taste and texture of a ranch dressing without added sugars.
Toby's Blue Cheese — Enjoy the intense flavor of blue without preservatives or MSG. Find this creamy delight in our refrigerated section.