Gluten free? Here's what's on the menu
by Nick Rose, M.S., PCC Nutrition Educator
This article was originally published in May 2011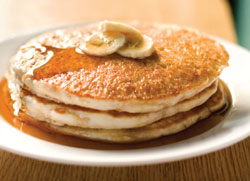 The transition to gluten-free eating can lead to a much healthier diet, as it "forces" you to focus on fresh, wholesome foods. Fresh produce, meats, seafood, eggs and dairy products offer greater nutritional benefits than a diet centered around bread, baked goods and refined grains.
The good news is that you can still enjoy all of the fruits and vegetables you want! Sweet potatoes/yams, squash, plantains and potatoes all are great replacements for the familiar starchy breads, pastas and crackers that you will learn to replace in your new diet. Sweet potatoes are both nutritious and versatile: They like to get baked in the oven, boiled on the stove, or sautéed with other vegetables in your skillet.
Eggs are a great breakfast option and are more filling, nutritious and versatile than breakfast cereals or the familiar toast/muffin/bagel options. One quick breakfast idea: Make an omelet with last night's dinner as the filling. Leftover potatoes, rice, beans, smoked salmon, mushrooms and greens all work great inside an omelet or frittata.
For those who are more comfortable eating breads, crackers, cookies and more, gluten-free versions are rapidly increasing in their availability and quality. These products are made from gluten-free grains and starches such as rice, corn, amaranth, quinoa, buckwheat, potato starch, tapioca, teff and oats (tip: always ensure oats are labeled as gluten free). A personal favorite is Pamela's Baking & Pancake Mix. I can tell you from my own personal experience how nice it is to once again be able to enjoy a big stack of (gluten-free) pancakes first thing in the morning with my wife!