Chatterbox for May
by Karen Gaudette
This article was originally published in May 2011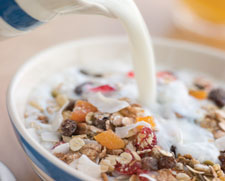 A piece from March PCC Taste about eight great milk alternatives stirred up plenty of discussion about favorites (read it here).
Said @kmma via Twitter: "This is great for peeps like me whose bodies say NO to milk."
On our Facebook page, Tami Kowal professed her love for So Delicious coconut milk, "followed by rice, hemp and almond." Todd Tee said he cooks all the time with Organic Rice Dream and adds Earth Balance organic buttery spread if he needs to thicken a recipe. Charlene Freeman recommends Organic EdenBlend rice and soy beverage.
What's for dinner?
We offer inspiration to our online communities each weekday afternoon.
Some of those recipes hail straight from the PCC Deli, including Steph's Tofu, a recent Meatless Monday suggestion that appears to have a following. "Yum! One of my all-time favorite tofu recipes!" wrote Alli Wright on our Facebook page. "My kids love this stuff too!" wrote Kimberly Coulter. "Thanks so much for sharing," wrote Heather Day West. "My daughter loves tofu, but is allergic to sesame, so can't have it at the deli. Now I can make it at home for her sans sesame." We're glad to help, Heather!
Look for even more deli recipes added to our online recipe database in the coming months, along with nutrition information.
Join the conversation
facebook.com/pccmarkets
facebook.com/pcccooks
facebook.com/pcckidpicks
twitter.com/pcc