Chatterbox for March
by Karen Gaudette
This article was originally published in March 2011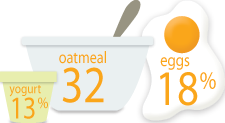 Who knew a simple monthly poll question about breakfast could spur so much interest? More than 270 PCC shoppers voted for a favorite breakfast item, with oatmeal, eggs and cereal leading the pack. And then, there were the comments. Here are some highlights:
From Barrie, via our website: "Protein shake with PCC's Show me the Whey (bulk) vanilla protein powder, a cup of almond milk, a handful of fresh spinach and frozen mango chunks, a little agave, a splash of vanilla and ice. I mix up the fruit so I don't get bored. I also like a shake of cayenne in there and a chunk of ginger. Yum!"
And from Natasha Hawthorn via Facebook: "Couscous cooked with soy milk, honey and cinnamon; topped with flax seeds and raisins. Or any other nuts, seeds and dried fruit I happen to have. Takes less than 10 minutes, and my kids ask for it every morning!"
Congratulations are in order for Pure Éire Dairy, a local grass-fed, all-Jersey farm that recently received its organic certification.
"Growing up on a small family farm with a Jersey milk cow, there is nothing like the quality of milk and cream from a Jersey. Thanks so much for bringing this quality to the market place and local too!" said Lauree Naval via Facebook.
How do you like to enjoy cinnamon? So many ideas poured in: with lamb; brewed with coffee; in oatmeal, yogurt, homemade granola, curry and mole; on broiled banana, rice pudding and baked acorn squash.
"In a rub for roast pork loin," wrote Tammy Buskirk-Deschamps via Facebook. "Cinnamon, sea salt, ground ginger, brown sugar and cayenne…Mmmmm."
Mmm, indeed!