Spring in your step
This article was originally published in March 2011
Foot care: simple tips for happy feet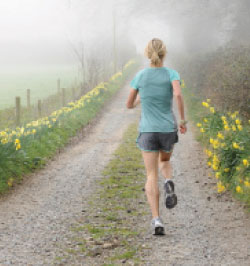 Our feet take us so many places. Say thanks this spring with a little TLC from PCC, home to body
care products free of parabens and petrochemicals.
Heal cracked or tired heels with Desert Essence Organics Pistachio Foot Repair Cream, replete with vitamin E-rich nut oils and a soothing scent. Tiptoe through the tropics with Burt's Bees Coconut Foot Creme, or treat stubborn dryness with Weleda Skin Food, a favorite of many menfolk. Combat soreness or swollen feet and ankles with Topricin Foot Therapy Cream (we hear it also works wonders with tendon injuries). Paint your toes with vibrant polish shades free of formaldehyde and other harsh, toxic chemicals from No-Miss Nail Care.
All set? Tuck your feet into cozy, soothing socks made from bamboo fiber made by Goodhew of Tennessee and local producer Wayi of Kirkland, Wash. Bamboo socks offer all the properties of cotton socks but also are moisture wicking, don't harbor odor, and are great for your circulation and skin. You'll find bamboo sport and dress socks at your local PCC.