Chatterbox for February
by Karen Gaudette
This article was originally published in February 2011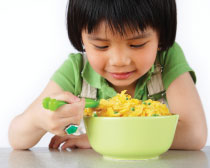 The PCC Kid Picks crew has launched Ask Leika!, an opportunity for our Facebook community to ask childhood nutrition questions, answered by PCC Nutrition Educator Leika Suzumura. First question: "I am raising a very active 5-year-old who follows a mostly vegetarian diet. Which vegetables have the highest content of protein? How would you recommend cooking them for a 5-year-old?" Leika advised leafy green vegetables, green peas and mushrooms. "Taking food they already like and adding things to it to make it more nutritious is an easy place to start. One of my daughter's favorites is 'mac chi pi' — macaroni and cheese with peas." Follow along at facebook.com/pcckidpicks.
A trio of homemade mustard recipes demonstrated by PCC Chef Lynne Vea on KING 5 TV's "Gardening With Ciscoe" show spurred a flurry of comments on our website and a run on mustard seeds in the bulk section of Kirkland PCC.
Check out the video »
Last, thank you for your kind words via Facebook and Twitter about January's inaugural issue of PCC Taste. Says @odaraia via Twitter "Love your new Taste publication. Like info about what's in season and nutritional information." We look forward to bringing you more great reading and opportunities to learn. Tell us what else you'd like to see! pcctaste@pccmarkets.com.