Reduce plastics with new liquid soap
Rebekah Denn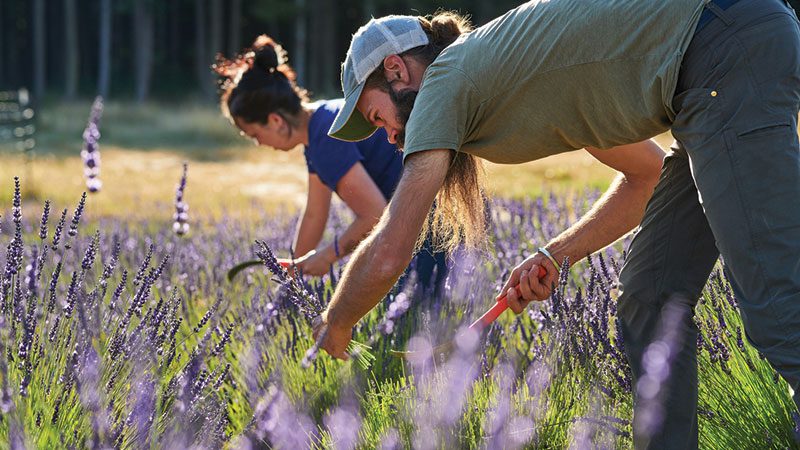 Reduce plastics with new liquid soap
Acres of botanicals including lavender, chamomile and yarrow grow at OrcaSong, a certified organic farm on Orcas Island. That harvest is one source of an upcoming line of PCC liquid soaps packaged in aluminum bottles rather than plastic containers.
PCC staff first encountered OrcaSong's products when the company was working on a skincare line in early 2020, said Steven Jamieson, the co-op's Health and Body Care merchandiser. That quickly shifted to producing hand sanitizer for PCC and for first responders in Island County when the COVID-19 pandemic hit, followed by other body care items.
The liquid soap coming soon to store shelves fulfills several PCC goals, particularly reducing plastic packaging, supporting organic crops and working with local suppliers. "I'm trying to reduce the distance that soap travels to get to our stores," Jamieson said. The women-led, LGBTQ+ business is also a member of PCC's Inclusive Trade program.
PCC's product standards for body care items give preference to minimally processed, organic ingredients, sustainably harvested materials and responsibly packaged products. (The full requirements are online here.) The co-op seeks to reduce the number of petroleum-derived chemicals that further our reliance on fossil fuels and contribute to climate change. For certain ingredients, we will only allow them if they are made from renewable sources (plant-based) instead of petroleum and do not allow certain products or substances that are known to contribute to climate change or plastic pollution, such as aerosol sprays and microbeads. As a relatively small business, OrcaSong was able "to be more customized and create a product that met our needs," said Jamieson. The 12-ounce soap bottles come with aluminum caps and separate plastic pumps, and "we hunted high and low" and found a 32-ounce aluminum bottle that could be used for refills, Jamieson said.
Offerings will be unscented, rosemary, cedar-fir, grapefruit-lemon and lavender. All PCC stores will carry the containers, and bulk versions will be available in some stores as well.
The lavender is grown on the Orcas Island farm, while the cedar makes use of hydrosols from the trees on the land—water left over from the process of making essential oils, a product that was once discarded. It retains botanical scents plus the medicinal values, Jamieson said, creating "more of a holistic product."
"The whole natural products industry should be moving toward a plastics-free solution," Jamieson said. The liquid hand soap is the third PCC-branded health and body care item to take that step; PCC brand bar soaps use paper packaging and PCC botanical body lotions produced with the Hollingsworth Hemp Company are packaged in aluminum bottles.
Sales of all OrcaSong products support the farm and its climate resiliency and education initiative. For more information on OrcaSong see OrcaSong.com.