Pasta powerhouse brings "Oprah's Favorite" gnocchi to PCC
by Rebekah Denn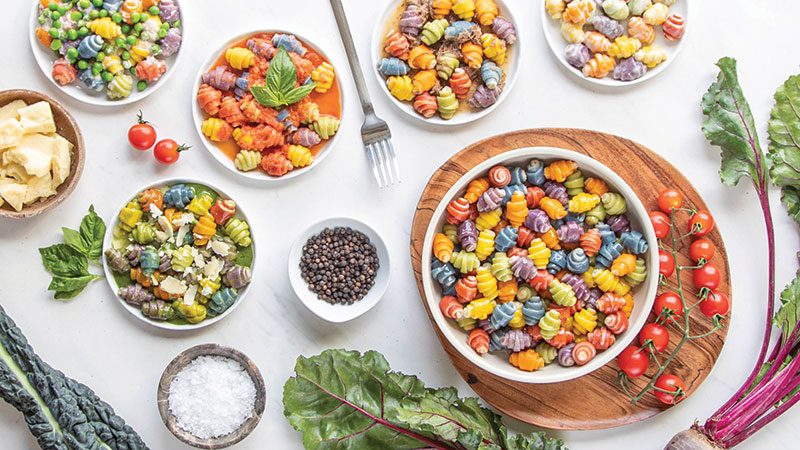 Photos by Jackie Mallory
There's an art to making pasta, and Linda Miller Nicholson (Salty Seattle) has always accomplished it outside the box.
Now the creator of gorgeous, colorful noodles also thinks inside the box. Her croissant-shaped gnocchi, named as one of Oprah Winfrey's favorite things when it debuted in 2022, is available boxed in the freezer section at all PCC stores. PCC is Nicholson's first retail outlet.
It's a major launch into new pasta-bilities for Nicholson, who the Food Network calls "an internationally recognized pasta powerhouse." In the past she's drawn fans through her cookbook, "Pasta Pretty Please," and through her Salty Seattle Instagram feed, using handmade noodles as an artistic medium as versatile as paint or textiles, creating pasta dresses and portraits and even furniture. Celebrity commissions include a noodle-icious portrait of Katy Perry and farfalle cabinets built for Gigi Hadad, and she's featured dazzling projects supporting LGBTQIA+ communities and civil rights.
The wow factor means more because Nicholson's pasta tastes as good as it looks. She learned to make noodles from her grandparents as a child, later lived in Italy, and started turning her handmade dough into rainbow-hued projects when her son went through a phase of resisting vegetables. She colored her noodles in natural tints, using vegetables and fruits and herbs—everything from nettles to carrots to radishes to blue butterfly pea flowers—creating what she called "edible Play-Doh" in all hues.
Since then Nicholson has taught plenty of classes, led team-building workshops and worked on art installations, but never had a satisfying answer when people asked if they could buy her pasta. Art generally costs more than dinner.
That changed with the shape she originally labeled "crocchi" (croissant+gnocchi), a pillowy rolled-up crescent.
"It is a hybrid between, essentially, gnocchi and pasta," she said. Tasters told her "You need to really do something with this shape," she said. "People kind of lost their minds."
Simultaneously, Nicholson wanted a bigger change. She was commuting between the Seattle area and New York and felt she was missing time with her now-teenaged son. Then her father died unexpectedly after a mountain biking accident.
"There's nothing like that to sort of shake you out of your routine and distill…why am I doing what I'm doing?"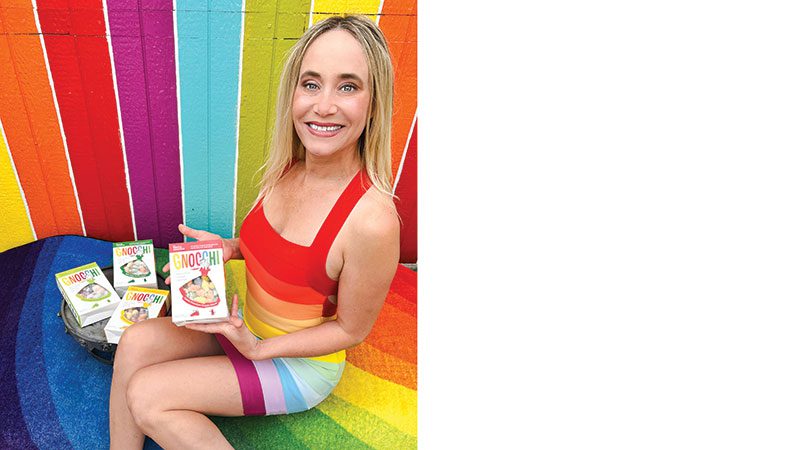 She learned the Oprah nod was coming early enough to drastically ramp up gnocchi production beyond her home pasta studio.  "I immediately started calling every single human being that I know on Earth," she said. That included cold-calling factory owners in different states, assuming she needed to leave the region for a facility that could meet demand. Instead, a friend of a friend connected her with a local factory that already had the infrastructure for frozen products. They were increasing staffing and capacity thanks to new workers sponsored as refugees from Ukraine.
At the facility in Kent recently, Nicholson was little changed from her earlier years in pasta. Full of verve, wearing a dress printed with her own gnocchi design, she taste-tested sauces and debated box designs and stocking plans with PCC grocery merchandiser Noah Smith.
"I always say that Linda's memoir will be titled "Staring lovingly at pasta," joked Jackie Mallory, her director of communications, as Nicholson talked about color balances and cooked up a test batch.
With the new scale of her noodles, Nicholson's assembled a team to help with production, from food science to U.S. Department of Agriculture rules. (The latter, which has rules for factory attire, nixed the rainbow hair nets and smocks that Nicholson thought would add some joy to the atmosphere.)
"We do a lot of R&D here," Nicholson said. That includes experimenting how to draw out and combine the most precise colors from various foods in different forms, aiming for hues that are attractive, nutrient-dense and vibrant when cooked. Freezing the gnocchi works best for retaining both nutrients and the airy texture, she said, and allows a quick boiling time. And retail sales, starting with PCC, were much easier for quality control, environmental impacts and cost than shipping it herself.
"With a frozen product, it was incredibly difficult. It cost us $40 to send a box of pasta to somebody because it ships on 15 pounds of dry ice in an insulated cooler and goes overnight," she said.
Moving from individual artist to business leader has required a lot of change, both taking on new responsibilities and letting go. The letting go part "100% has been my biggest struggle," she said. But "doing everything yourself, knowing you are just relying on yourself—it's great but then I also got to a breaking point." She's learned to rely on others who are also amazing at their jobs.
In the factory, workers busily took colored sheets of pasta from the roller, cut them into triangles and expertly rolled up piece after precise piece into croissant-like forms. They're identical to most eyes—all weighing in at 5 grams, the "ideal size" from Nicholson's tests. Even though there's a standard form, Nicholson says there's enough individual styles that she can tell which employee was responsible for which assortment. Each bite-size piece then moves to a spiral conveyer belt that takes it off for quick freezing and packaging.
"I probably rolled 30,000 of them" in the early days, she said, and she'll still come and spend a few hours at a time rolling dough. Then, she laughed, her partner on the production line will take half of hers and redo them to make them better.
People ask sometimes why the gnocchi isn't cheaper, she said. Quality ingredients is one reason, but the room full of real people hand-rolling each bite-sized piece is another. "There's not a machine here spitting them out."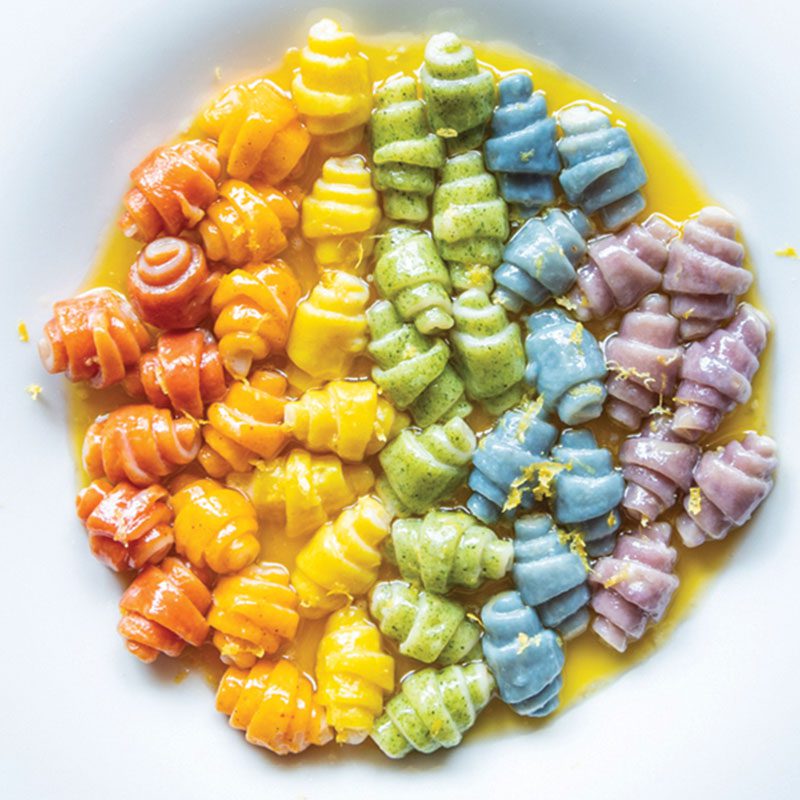 Eat the (pasta) rainbow
Linda Miller Nicholson's croissant-shaped gnocchi and sauces are available at all PCC stores.
Watch videos of her pasta process and fun art projects on Instagram at @saltyseattle.