Growing for Good: What's next for a powerful partnership?
By Rachel Tefft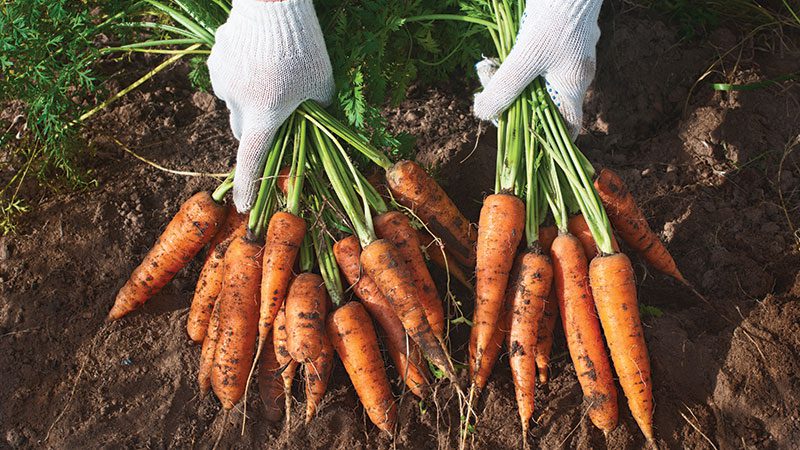 Growing for Good: What's next for a powerful partnership?
Farmer Centered. Community Focused. People Funded.
In the chaotic early days of the COVID-19 pandemic, when farmers and businesses and community members all wondered how to stay afloat, a lot changed with a single phone call. That call came from Sam Kielty, food access coordinator for the Seattle Neighborhood Farmers Markets (NFM), after city farmers markets were suspended in March 2020 to slow the spread of the disease.
NFM knew that farmers, who relied on the weekly markets as well as sales to now-shuttered restaurants, needed a way to sell their crops. Meanwhile, PCC had longstanding food bank partners and dedicated members who suddenly could no longer volunteer on-site at those food banks. And Kielty knew that the nonprofit Harvest Against Hunger (HAH) organization had already been connecting hunger-relief agencies and local farms through its King County Farmers Share program. Within a few action-packed weeks, the three agencies joined together to create Growing for Good (GFG), a program helping food banks buy produce directly from farmers (click here for more information), connecting administrative and technical experts from HAH with interested farmers from NFM, funded partly by donations from PCC shoppers. More than three years later, in a very different environment, this program is still growing…for good. The partnership between these three organizations remains an unusual triangle, with each partner essential to this program and each deeply dedicated since day one. The challenges have changed over time, though. I want to share some behind-the-scenes details on how we have worked together to navigate funding, environmental disasters impacting local farms, and the growing need for food through this program—and what lies ahead.
Capacity
In other times, a new and complicated program would have come with budgeting for administrative support. But GFG came together in a time of great distress and extreme uncertainty. Each organization stepped up and found space and time to build this new program while continuing to manage our respective existing roles. We have all worked collaboratively over these years, supporting each other in building capacity to handle these new responsibilities. NFM has an employee who supports GFG alongside NFM's pre-existing food access programs. HAH has developed the role of Farm to Community Program Manager and Farm to Community Program Specialist, full-time positions supporting three initiatives (including GFG) to get fresh, local produce into the emergency food system. Starting in 2021, PCC has been able to contribute $10,000-$12,500 annually to both organizations to support that added workload.
Funding
NFM and HAH are both nonprofits doing so much to support the local food system, relying on grants and community donations to accomplish the majority of what they do. Supporting GFG added to their already large impact.
NFM runs seven farmers markets across Seattle, three of which are year-round. They also run a variety of programs such as The Good Farmer Fund providing disaster relief to farms, gleaning at the market (an opportunity for hunger relief organizations to get high quality produce at the end of each market day), and Helping Harvest, allowing food banks and other charitable organizations to buy "Farm Bucks" for their clients to buy fresh market produce.
HAH plays the unique role of building and developing connections that move healthy produce from farms to hunger relief organizations and creating partnerships between small to mid-scale growers and local food pantries and meals programs that increase access by people in need to fresh local produce. Through the Growing for Good partnership, HAH, NFM and PCC are helping people in need receive nutritious produce, farmers reduce food waste, and small to mid-scale growers thrive—resulting in healthier communities and more equitable food systems. As I said, this work would not have happened without the contributions of each of these organizations. It also would not have been possible without you. GFG has been funded primarily by PCC shoppers and members, another way in which it has been unique and extremely nimble in a time where that flexibility has been needed greatly.   
Growth
It is still unbelievable to me that the first shipment of local mushrooms arrived at the Rainier Valley Food Bank just two weeks after Kielty's initial call, after surveying farms and food banks to determine the right matches, building an infrastructure to provide upfront funding to farms and contracts with food banks, with logistics that could work on each side, followed by so many more deliveries. For some farms GFG has become their first introduction into the business of wholesale. We have looked at this as wholesaling with training wheels, with the GFG team providing backend support for these farms. GFG continues to serve as a growth opportunity for growers, opening new doors and building best practices that can be translated into other opportunities to grow their business to become more resilient. We are looking at ways we can continue such support, providing education and resources for farmers who want to scale up and sell to retail stores.
Sustainability
This program received additional funding in 2021 and 2022 through an influx of COVID-19 relief funding, allowing the program to grow quickly and provide more funds to farms and more food to the community. The challenge after the pandemic funding ended has been how to support the same or greater needs with 50% less funding.
Fortunately, PCC member and shopper donations have stayed constant and allowed this program to continue. We are now starting to look at all the ways this could grow and how we can continue to work together, as a community, to support our local food system. Watch for new and exciting ways that you can become more deeply involved with this program in 2024!
Evolution
Our communities are, and have been, in a time of collective crisis. With the increasingly high cost of living, more and more of us are struggling to meet our basic needs. In this region we have seen a heartening local response: an increase of community driven programs, with food access initiatives led by the community, for the community. We have not just seen, but lived, the importance of a resilient local food system, and we expect to face additional challenges as extreme weather and its effects become a reoccurring part of our realities. We now, more than ever, need to collectively care for and support all those who make this region so abundant.
The GFG team talks about these truths when we consider what is next for this program. We have been meeting with other organizations to see how we could work more closely together, and are continuing to adapt the program based on regular feedback we receive from the 24 agencies and 17 farms in the program. These issues we face, we face all together. We cannot solve the problems at hand but we are committed to doing what we can, in the positions we hold within our food system.
I have heard people comment on how unusual it is for three organizations to co-lead and co-operate on a program of this scale for so long and so successfully. I honestly think that is the magic of Growing for Good. It is supported by all of us: those who donate, those who grow food, those who run the distribution agencies, all of us deeply invested in making sure that we take care of each other and protect the local food system in the Pacific Northwest for generations to come. There are many lessons I have taken from the COVID-19 pandemic; one of the strongest is that we need each other and we can do so much more together than we ever could apart. Isn't that what being a co-op is all about?
How to help Growing for Good
Donate at the register at PCC stores from Nov. 15 to Jan. 2 to support Growing for Good, or donate online anytime at Growing for Good — Neighborhood Farmers Markets (seattlefarmersmarkets.org).
Learn more about PCC's Purpose Program here.